E-commerce Site Search & Product Navigation for Online Shopping Carts
You can spend countless hours doing research on a profitable ecommerce niche like auto and pay meticulous attention to the products that you fill your e-commerce store with, but if you don't make it easy to navigate, then customers might find your store, but not the product they are looking for.
And if it's difficult to navigate around your site and your product placements don't make sense, then it's time to use these strategies for site search and navigation.
#1: Product grouping
Grouping similar products together will make it much easier for customers to find what they're looking for and compare their options.
Here's how Napa groups their parts and accessories section of their online store: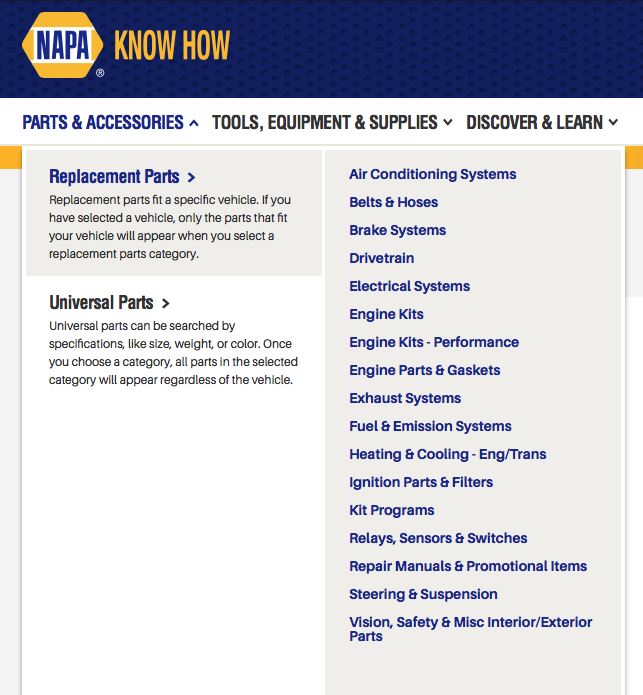 You can see that's it's not just one big jumbled mess of every part and accessory they have, but neatly separated so that customers can find exactly what they are looking for and not have to scroll through a bunch of items they don't need. Good automotive website design is not just organized, it also resonates deeply with your clientele.
This makes the customer experience a positive one, and they'll remember that they had a no-hassle experience at this online store next time they need to order a part.
#2: Filters
When you have a complex product on your hands, filters will help guide your customers through the e-Commerce website platformso that they find precisely what they're looking for.
Think of filters like the employee in a brick and mortar store that takes the customer to the exact aisle that their part is on and answers their compatibility questions.
In this example from Motorcycle Superstore, you can see that they have a filtering system front and center to ensure that the parts you buy match your particular model of motorcycle.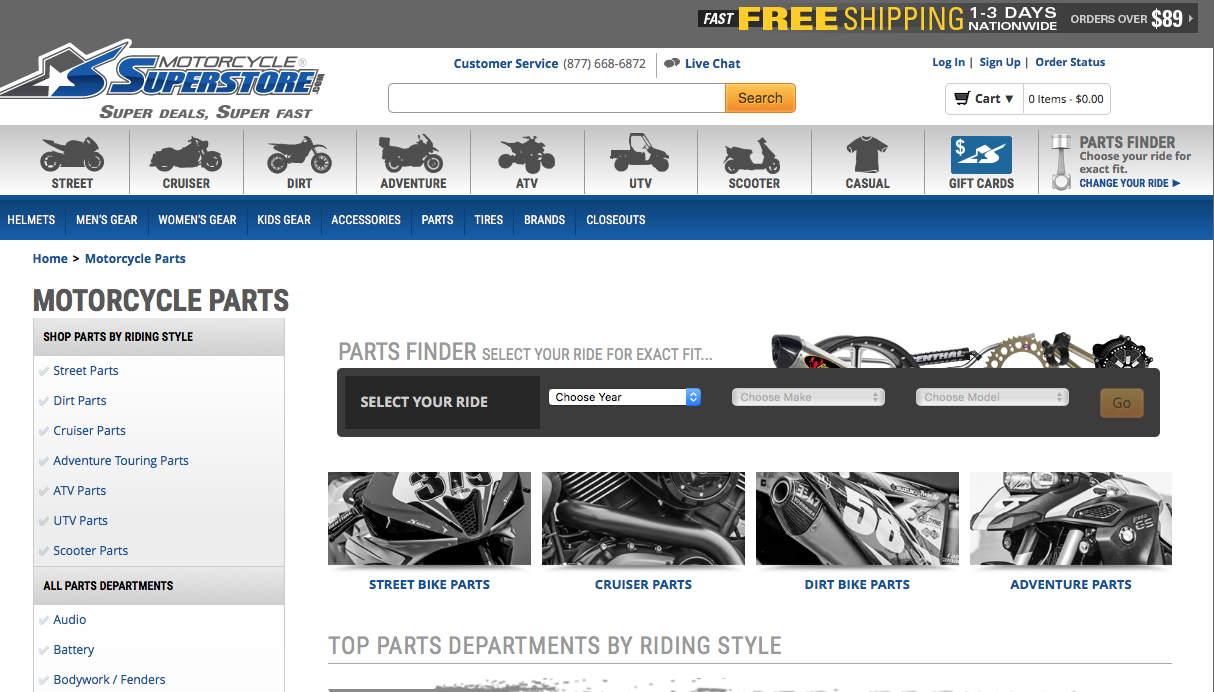 #3: Responsive design
It doesn't matter how simple or complex your product data is – if you want to give your customers the ability to find and utilize your e-commerce store on the mobile web successfully, it must have responsive design.
On top of that, you have to make sure your design is simple enough that you can transition from a desktop to a tablet to a smartphone and be able to use the same filters, as well as keep your shopping cart and wishlist intact.
#4: Optimization
You have to be very specific when you optimize a niche online store to ensure you get the right traffic. Not everyone who sticks the word automotive into the search bar will be looking for the products in your e-commerce shop.
One huge challenge of anyone trying to have an online presence is getting the right traffic to come by for a visit. Check your bounce rate, and if it's high, go back to your SEO checklist and make sure that you have the right keywords within your niche, and it's optimized for your ideal customer – not just for a high level of traffic and no conversions.
#5: Search bar
The search bar should be easy to find and use – and your site needs one. While it may sound like a good marketing tactic to make people cruise through the impulse buy section before getting to the product that is the purpose for them being there, the truth is, it will really just distract most buyers and cause them to go somewhere they can get what they want a little faster.
Here's an example from Tractor Supply. They have a clear search bar on the top and their filtering system to the left. They make it a snap to find what you're looking for.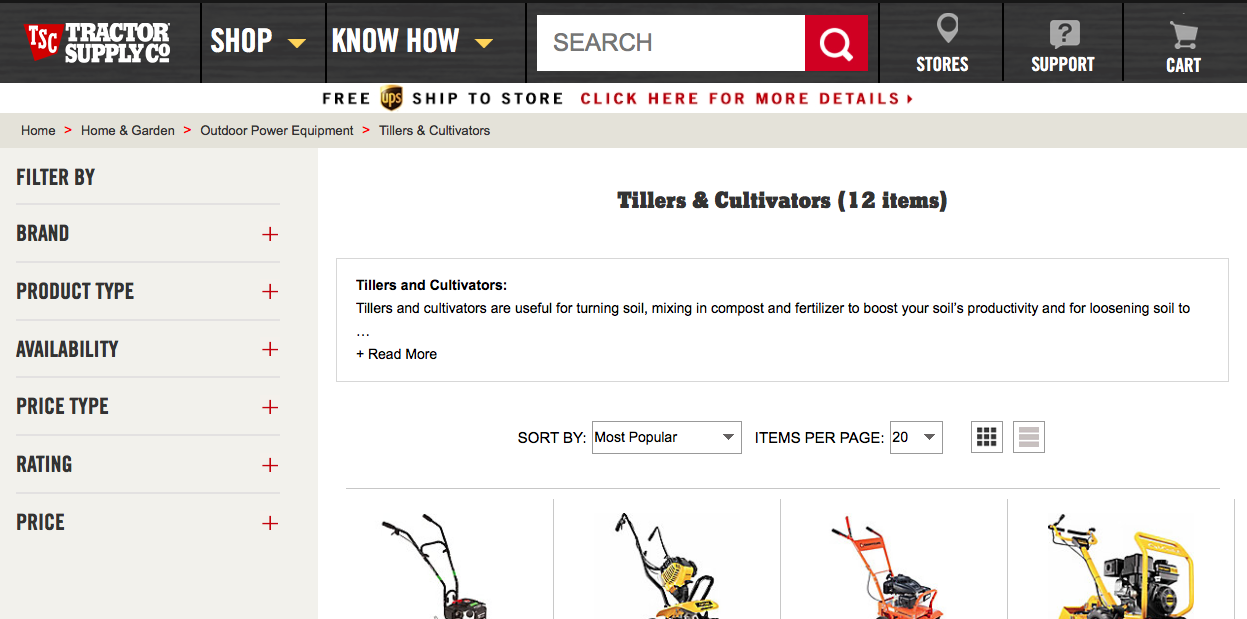 #6: Checkout
More people abandon their carts during the checkout process than any other time throughout a purchase. There are multiple reasons for this, and one is that you may navigate them right off of your pages and to a place that is clearly a third-party system. During checkout, keep your brand in front of customers at all times and don't ask too many questions. Just get the necessary information and make the sale.
You have plenty of times to sell accessories and other items after the sales are complete, but if you grow too pushy and demand too much information from customers during checkout, they'll get tired of the process and abandon the sale.
#7: Distraction-free searches
Pop-ups used to be annoying and distracting, and people would get frustrated because a single click on the page would send you to sign up for an email list or to a different location within the website.
These days, pop-ups have improved, and they've shown they can be a compelling marketing tactic – when tastefully and intelligently placed.
With that being said, the fewer distractions you have, the more on track your customers will be throughout their shopping experience at your store. You want smooth site searches and navigation for your traffic, so ditch the disruptions and let your customers check out your store for themselves.
#8: Stay niche specific
Each niche will have it's own attributes that you'll need to factor in when people are searching your e-commerce store and the closer you stay on target for your niche, the better off you'll be.
One example that comes to mind is a very successful restauranteur who made his money in sports bars and had a full selection of wings, fried pickles, burgers, and other classic pub grub.
While he was already successful in his niche, he wanted to do more and decided to add a section on the menu full of expensive steaks and fish dishes. Over the course of a year, he found that he was losing money because no one was eating off of the more refined side of his menu.
In fact, he discovered that he was selling two plates a week of that style of food, and they were his own orders.
The point is – just because you buy it and it's close enough to your niche, doesn't mean your customers will feel the same way. Stay true to your niche and what your customers want, and you'll have a better chance of success.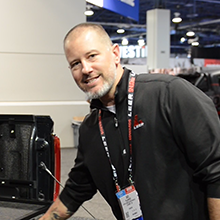 BEDSLIDE - Client Testimonial
"The best thing out of everything was that our sales went up. The new site had a better design, the checkout process was better, and ultimately achieved all of our goals. That site has been up for a year and a half and we're very happy with it, it's still awesome." - Jake Plappert