Your eCommerce Store will Cost Money | Expenses
When choosing a profitable niche for your ecommerce website , you're primarily focused on the money that will be coming in. However, you need to be aware and prepared for the money that will be going out on your end – especially in the beginning.
Here are a few places that you'll need to spend some time and money, and a few factors to consider when choosing your products on the turnkey ecommerce site to make up those initial costs.
#1: SEO and web design
Whether you are building the online store yourself, or you're letting a professional handle the job, you'll have to put money into the project. There are some individuals out there that will boast they have practically free web design services and can get you ranked on the top page of Google in no time.
If you hear this, and it's not someone that you personally know and trust, then run in the other direction.
Good e-commerce takes time, no matter what niche you choose. If you decide to go it alone, you'll be investing a lot of time to learn how to design and optimize your online store. And you'll still be spending money when it comes to hosting, business email, bandwidth, and all those other elements that will provide a quality and fully functional e-commerce store.
Hiring an expert will speed up the process because they have the best practices and can immediately apply the most up-to-date and effective methods.
Compare the costs of DIY and hiring a pro, and don't forget to factor your time into the equation.
#2: Customer Support
When you decide to venture into the e-commerce world, you might be able to do it all yourself. Maybe you have the help of a few loyal friends and family members. But as your business grows, you'll want to think about hiring people (or paying those who have volunteered to help you get off the ground).
#3: Transaction fees
Pay close attention to the fees you're being charged for transactions so that you can factor these into your start-up costs. No one likes to be blindsided by a large price tag than expected. Closely investigate costs such as exchange rates and areas of business that additional fees can be applied.
#4: Warehouse and storage
While you might be able to start out in your garage, you probably don't want to end up there. As you make more money and gain more traction online, you'll want to get a bigger and more efficient space for your online store.
#5: Taxes
Yep – we can't leave out taxes when it comes to costs. Each state has different tax laws, and to ensure that you can foot the bill each quarter, you'll want to be proactive with the books and stay organized with your numbers.
If you aren't confident in your abilities to crunch your own numbers, it might be more cost effective for you to hire a bookkeeper or accountant.
#6: Product cost
The initial cost of the products will need to be considered, and you should also make sure that you are aware of any limitations on individual items. Depending on the company you are getting them from, you may be limited to an annual amount of purchases before getting a lower cost. Check the margins for drop shipping and always factor these numbers into your final price tag.
#7: Marketing
Whether you want to focus your efforts on traditional or online marketing (or both), get ready to spend a little money getting yourself in front of your ideal audience.
#8: Shipping costs
Shipping costs will vary depending on your niche and the attributes your products have. If you plan on offering free shipping, then it's important that the final cost of the products absorb the shipping fees so that you don't end up losing money in the long run.
Consumers understand the cost of shipping, and often it isn't that they don't want to pay it, it's that they don't get information until the end of the transaction. When you put everything out there, and it's up front at the beginning whether it's free or already included in the price, you'll see better results and gain more trust.
Here's how Auto Zone clearly explains their shipping costs: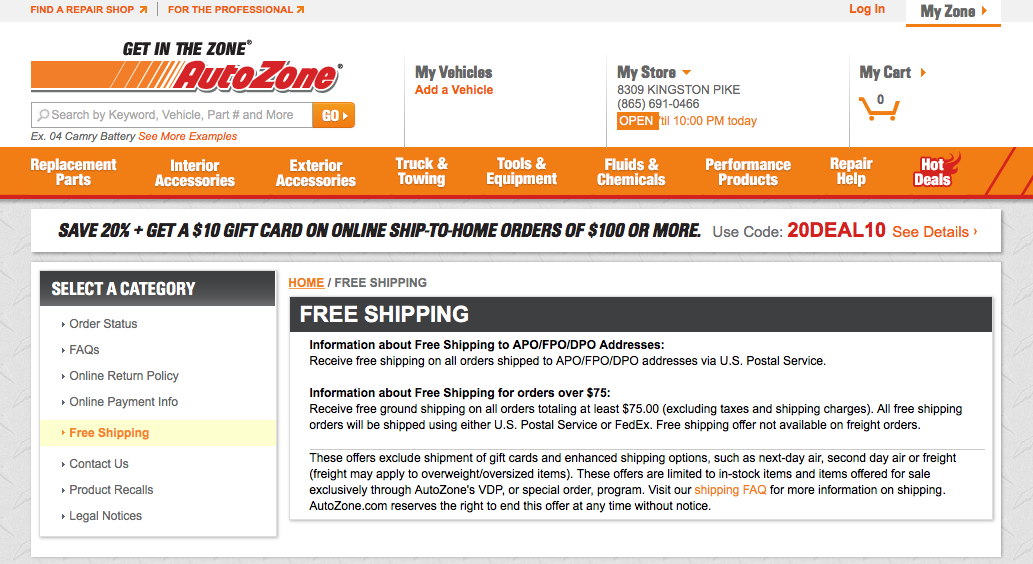 How to combat costs with smart product selection
Owning an e-commerce business is going to cost money – heck, owning any business is going to have some sort of overhead. The good news is your start-up costs won't be as much as many other businesses out there.
And you can combat those costs by focusing on making a smart product selection. Here are a few areas that you should place your attention when choosing products within your niche.
Product attributes: Pay attention to the dimensions of the product because while the larger and more expensive items may look like they will bring in the money, they can often be a harder sell and cost much more to get to your customers.
Also, understand your costs when it comes to returns, as well as if the product is complex and demands more customer support.
Accessories: You might have a large product in your inventory that doesn't bring in a lot of money, but if that item has a lot of popular accessories, then you can make up for the cost.
Here's an example from Adventures in Home Brewing: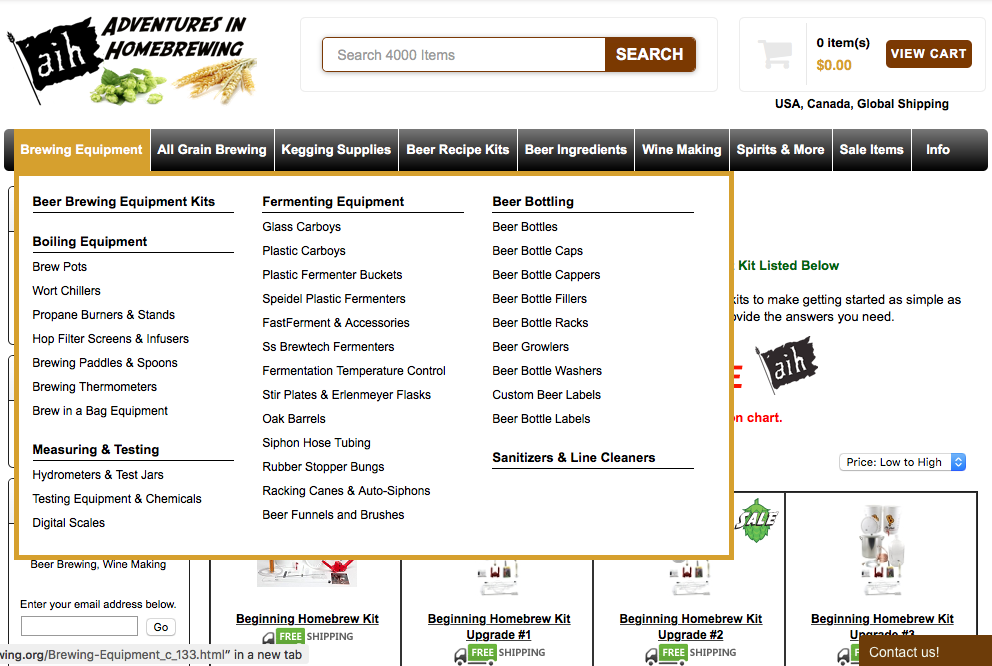 While they have plenty of beer brewing kits, once a customer buys one, they might not need another one for a while. But, when it comes to craft beer, you'll find that you'll continually need ingredients, cleaning supplies, and smaller pieces of equipment.
Shippers: You can cut products costs depending on the shipping methods you use. Some e-commerce stores choose to have a warehouse with their items physically in front of them while others go with a drop shipper. You can also get your products directly from manufacturers.
Take the time to review your different options, how much they cost, how easy the company is to work with, and what your competitors are charging.
Some shippers make sure that the market stays reasonably priced, and they leave it up to the online store owner to add value and gain the trust of their customers. Others will have a 25% margin for drop shipping, and they'll change that as you grow in popularity.
Buyers: Even though you've already done your keyword research when picking a profitable niche, you also need to do it for your product. Check and see if there is any buzz among customers about the particular item you're selling.
You can also look to online reviews at other e-commerce stores. If you find that a similar product has hundreds of current reviews, then it may be a sign there are customers interested. Of course, you'll want to read the reviews to ensure that they are positive.
Here's an example of Amazon's best seller page that can help you gain a better understanding of what customers are buying when it comes to automotive performance parts and accessories.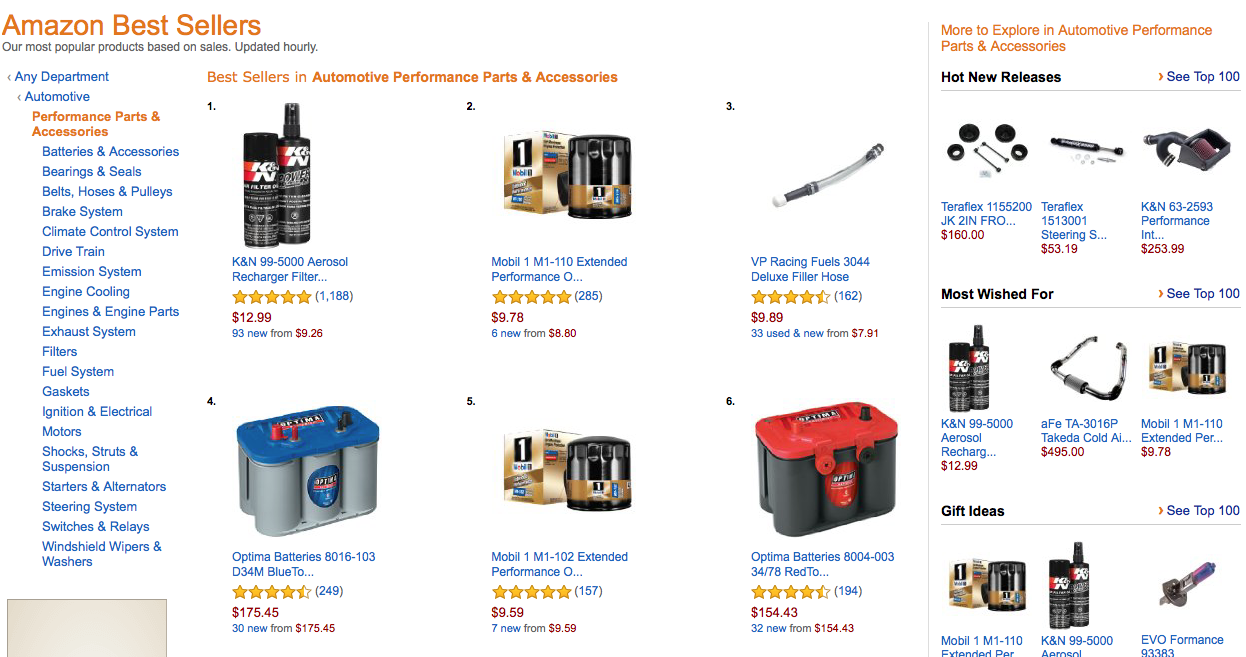 Now that you have a better idea of the costs and how to combat them, you can carefully execute the product selection within your niche.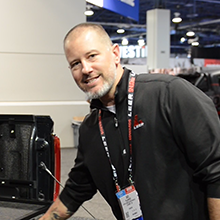 BEDSLIDE - Client Testimonial
"The best thing out of everything was that our sales went up. The new site had a better design, the checkout process was better, and ultimately achieved all of our goals. That site has been up for a year and a half and we're very happy with it, it's still awesome." - Jake Plappert