eCommerce Calculator & Site Profitability Index Formula
There are many profitable niches out there just waiting to be uncovered. However, once you find a niche that looks promising, there are a few questions you need to explore to ensure that the products in the niche are going to excite your customers enough to make a profit. Take the time to check the ecommerce calculator and determine a site's potential profitability index.
Here are ten questions for you to delve into before you make the final decision on your products. Be sure to select a profitable ecommerce niche and avoid serious disappointment.
#1: Do your products fix a problem or stir an emotion?
We can't emphasize this enough – you need to be a solution for your customers' problems, and your products are an extension of that. Whether you are selling a component to a larger and more complex motor or you're selling hummingbird feeders, you need to do it in a way that fixes a problem or stirs emotion.
10 Ways to Know Your Ecommerce Products Meet the Most Profitable Criteria
Here's an example of how Costco uses their online store to capture the emotions of people and fix a problem. They promote a mobile medical alert system.
With this product, you fix a problem because those who are elderly are better equipped to handle an emergency when they are alone. Emotion is tapped into because the individual using the product will feel independent again, and the family will have confidence the elder in their life has extra protection in a situation where they need immediate medical help.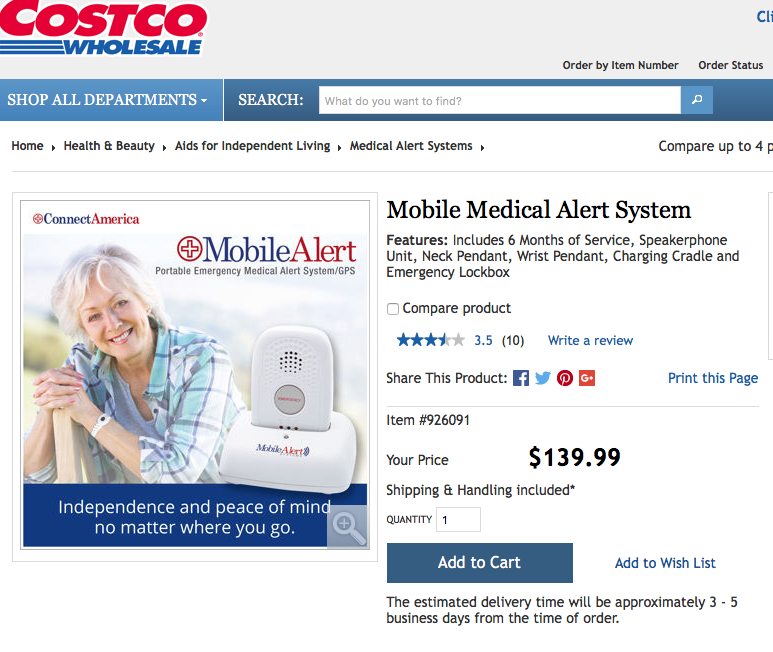 #2: How many searches do your products within the niche get?
Pay close attention to how many searches products like yours get. While you want to go with a niche that isn't heavily saturated with competition, that doesn't mean to go where no one is even searching.
An eCommerce Caluculator should be your best friend
Depending on your goals, you should see anywhere from one thousand to ten thousand searches a day for the main keywords and then a series of smaller, related keywords underneath that (usually your category and product names, along with some informational queries). This lets you know that the traffic is there, and traffic leads to customers.
#3: Have you found proof that your product has an online audience?
Beyond the number of searches you see being made daily for your products, you should also see proof that your product has an online audience through blogs, e-books, social media, forums, and beyond.
If there is no buzz what-so-ever online about your products and the solutions they provide, you might not have a platform of people to sell to.
Profitability Index Formula for Online Stores
Say you want to design an e-commerce store for Porsche lovers. You have plans of selling everything from parts to accessories, but you aren't sure if you'll have an audience.
Luckily, when you go to the Amazon book section, you find quite a few selections, and they all have plenty of reviews for you to read.

This is an indicator that people are searching for and purchasing related products online already. And the further you dig into the topic, you'll probably discover plenty more evidence of a strong online market.
If you find nothing at all, then you'll want to question why that is, and whether there is a market for you at all.
#4: Is the product made with quality materials?
Being recognized as an authority and gaining people's trust is crucial for getting customers to keep returning to you when they need a product. It's important that they associate your brand with quality. You'll also want to be sure that you provide them with an easy way to return the product if it doesn't hold up.
If you sell cheap, low quality junk, you may get a few customers at first, but the reviews will be bad and this will prevent future customers buying from you. If you lose trust, you will find it very difficult to sell, no matter how great your niche.
#5: What are your direct competitors like (and do you have a unique selling point)?
Once you believe you've found the niche and products for you, then it's time to go check out what the competition is doing. You want to look at your competitors on both a large and small scale.
Researching them helps you create a unique selling point that will make you stand out. If you struggle to find a USP, and you can't beat the competition on e-commerce site quality, you might want to dig a little deeper and find a gap in the market that you can fill without as many quality competitors.
#6: Are there people willing to spend money on the item?
Remember, just because something is searched a thousand times a day, doesn't mean people are going to spend money on a product that relates to it. Get an idea of the customers you'll be marketing to and find out if they are willing and capable of finalizing the purchase.
Searching on sites like Amazon and Ebay can give an idea of sales volume, by checking the number of reviews (and actual sales numbers if it is shown).
#7: Who is the authority in the niche?
Getting to know the authority in your niche is an excellent way to learn more about the products, as well as discover where the gaps of information are.
In some cases, you might find that the person who has the most authority doesn't have an online store, but is simply an expert who writes about it. You can choose to approach this person politely to help get you involved in the industry more.
#8: What is your keyword competition like?
You need to be sure that you have the most accurate keywords, that will bring the right traffic to your website. Take the time to research the top ranking competitor websites for your keywords, and see what kind of sites you find there.
You'll notice that a generic search for 'Porsche 911' has huge search volume, but will be a waste of time for you to optimize for if you are selling Porsche parts. The results for that keyword are all dealers, Wikipedia pages and review sites.
You'd be better off aiming at 'parts for porsche 911', which although has lower volume, is way more targeted to your ideal customers.
#9: Can you be a relative expert?
It will really help to win customers over from your competitors if you can be a relative expert and help people while they are making the purchase decision. Be prepared to do a lot of research on the topic and really dig into the details to develop an understanding of the products beyond what your audience already knows.
You can provide instructional videos, PDF downloads and guides on your blog, along with FAQs and good pre-sale customer service. In general, complex niches (such as technical equipment, anything that needs assembly or multiple parts etc) have more opportunities to become an expert, but they also require more research and input from you!
#10: Is your product trending on Google? Are people paying for Ads?
Google can be a useful partner in judging the potential market for your niche.
Jump on https://www.google.com/trends/ and search your keywords, to see how search volume is changing over time. If it's sinking, that might be a bad sign that popularity for your product is on the way out.
If you search for 'matcha tea', you will see a clear indicator that the product is becoming more popular each year and could indicate a profitable niche.
If you were selling Ford parts, you might notice that'Ford Motor Company has had a steady interest over the years. This is a good thing, but bear in mind this is traffic interested in the company in general, so you need to search for keywords like 'Ford truck pats, your individual parts names and models to get accurate data.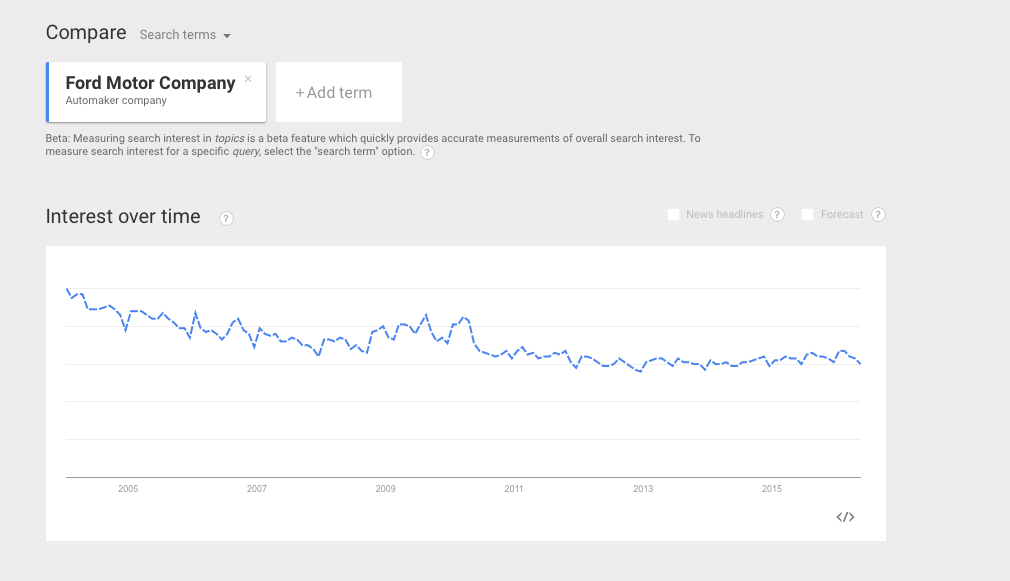 Also make sure to check the Google search listings to see if people are running ads to products within your niche. That's actually a good sign. If there are no ads (no one is investing in it), you have to ask why – it might not be a profitable niche.
Conclusion
Remember all niches are not the same, so you will want to check out all the above criteria and make a judgement for yourself. Perhaps create a scoring system, and compare how many of the criteria each of your niche ideas scores out of ten.
Check back for the next blog in the series, which focuses on balancing your passion and profits!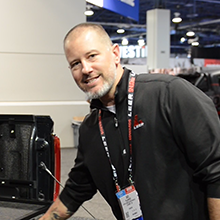 BEDSLIDE - Client Testimonial
"The best thing out of everything was that our sales went up. The new site had a better design, the checkout process was better, and ultimately achieved all of our goals. That site has been up for a year and a half and we're very happy with it, it's still awesome." - Jake Plappert