eCommerce Data Driven Decision Making with Google Analytics
In this series about Big Data, we've touched on many different aspects of complex information and how its applications affect e-commerce stores. So far we've found the overwhelming amount of data can bog you down if you let it. But, when you take it one step at a time, you can break it down and manage it effectively. Here we look at big data as a whole and some of the most beneficial uses of it.
8 Ways To Use Big Data With Your Online Store
#1: Proactive planning
As the e-commerce world moves at an ever-rapid pace full of complex product data, updates, and improved checkout applications, it's essential that you're continually evolving your plan to meet the demand. The longer you collect data and apply it, the more effective you'll be at predicting the market in your industry and staying at the forefront of trends.
Start now by choosing the areas you want to focus in. Do you want to be a major player in social media or would you rather become well known for your online rebates? Whatever you choose, start testing and applying the data you've gathered so far, and make sure you have a solid eCommerce content management system in place that makes going back to past months and years a snap.
#2: Customer habits
All business owners can benefit from knowing about their customer's habits because it gives you insight into things like the age group you see the most completed transactions from and who tends to leave the sale at checkout. If you notice your customers spend a lot of time on the pages investigating a certain product, but never convert, it might be a sign you don't have enough information listed or your price is too high. Additionally, if you do not see many conversions from mobile visitors, it could be time for a mobile ecommerce update, before its too late.
#3: Fraud prevention
Big data can help you spot fraudulent patterns that can lead to you and your customers being taken advantage of. Online retailers spend thousands of dollars each year to resolve and prevent these acts from happening to their eCommerce web store. Big ecommerce data from google analytics can be used to prevent credit card fraud because you can review the red flag patterns that are utilized by scammers, as well as review transactions based on information you've gathered about fraud rules.
When it comes to fraudulent returns, you can use big data to find out if the product was actually delivered to the person trying to return it, and if they bought a like-item recently on a different e-commerce store that has a lower price. Beyond that, you can often detect fraud while it's happening by developing a pre-determined set of rules that are applied every time a transaction is made.
#4: Customer service
Improving customer service is at the top of the list for businesses large and small, online and off. And one way you can improve it is by using big data to investigate the reaction your customers have to the support you offer. Here's an example of how Napa offers customer service options for every product by putting a phone number you can click on accessible for every product.

You can test out things like "live chat' during the checkout process, find out the most used features of your customer service and improve them, and incorporate follow-up emails after the sale to ask how you did to gain more customer information.
#5: Product selection
Having the right amount of parts, products, and accessories in your e-commerce store is a challenge. Too many and you're overwhelmed with the complex data you have to apply to ensure fitments and applications are correct– and you have to make it easy for your customers to find and follow through with the purchase. Too little and you have this aching feeling that your e-store is too bare.
Big data gives you an assist in product selection because it allows you to build your inventory slowly, give each product attention, and then test how well it performs in the market you're targeting.
You might find that your sales thrive when you have simple components that are easy to DIY like windshield wipers, but when it comes to replacing cylinders, consumers don't show interest. Adjust your product selection accordingly, and be proactive and strategic as you add additional items.
#6: Competitive pricing
If you don't have some clear added value when selling similar products as your competitor, then you should be priced close to them. Being in line when it comes to cost still leaves you a lot of room to market smartly and gain those conversions, even when you eliminate price as a factor.
If you and the competition both price your lawn mower at $200, but you give a 15% off for an accessories purchase or a coupon to join the newsletter, you'll be doing more than just selling the mower, you'll offer an incentive for them to come back. Using google analytics to guide your eCommerce decision making is no longer a luxury. In today's competitive markets, survival dictates it.
Here's an example by DataCrop of price comparison: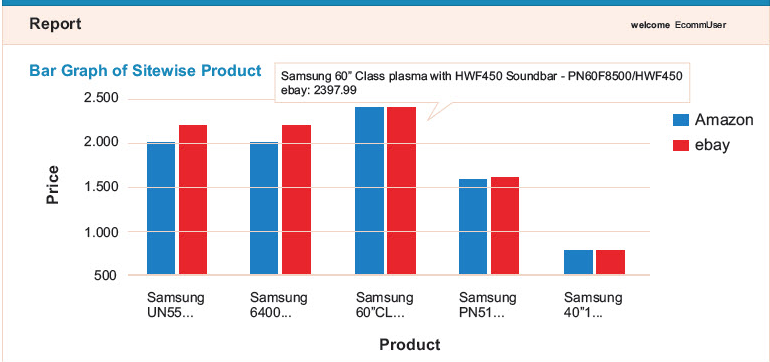 #7: Accurate product information
Inaccurate product information can cost you big time in returns, exchanges, extra shipping fees, and lost customers who go to a reliable source. Take the time research industry standards, and remember – you have to find a trustworthy source to rely on as well.
Make sure you're using expert data standards and always paying attention to your inventory, so you don't have discontinued items in your e-commerce store. Organize your complex auto part data in a system that is easy for you to update and stay on top of, and you won't have a problem keeping up with accurate product information.
#8: Confident marketing moves
The longer you collect big data and organize it using the best practices, the better your roadmap will be when you make significant marketing moves. You'll soon discover that your reach is farther than you thought possible and it stretches across multiple platforms such as social media, email, and mobile users.
Big data has a lot of uses, and here we've uncovered a few of the most beneficial ones. If you're just starting to collect your data, then take small steps and focus on one aspect thoroughly before moving on the to the next. It takes time, energy, and trail and error, but the more you dip your toes in the water, the more confident you'll be when it's time to jump in, head first.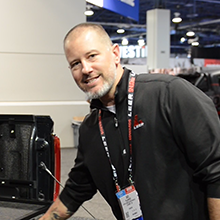 BEDSLIDE - Client Testimonial
"The best thing out of everything was that our sales went up. The new site had a better design, the checkout process was better, and ultimately achieved all of our goals. That site has been up for a year and a half and we're very happy with it, it's still awesome." - Jake Plappert