How to Simplify 3 Complex eCommerce Data Problems
There is A LOT of data out there – and it doesn't all fit in the same category. In can be downright overwhelming and make us want to pull our hair out, but it's so beneficial when properly executed, you just can't ignore it. So your next step is to address the challenges that come with complex data and develop a plan to break it down and simplify it.
Here are three of the biggest challenges we face when working with complex data. We'll take a closer look at the hurdles they create and what we can do to make the job easier on ourselves. It's time to work smarter – not harder, so let's get going!
#1: Collecting Data
With all of the information at our fingertips, it can be hard to tell what sources are legit and trustworthy, and which ones give wrong information. On top of collecting data from reliable sources, you have to know what kind of data you need.
So what makes collecting auto data so difficult?
Well, for starters you have to understand the type of data you're looking for. When it comes to product data you'll need to gather information like:
Product Specifications
Detailed descriptions
Quality images
Brand name
Part number from the manufacturer
Make/Model/Year
Warranty
Instructions for installation (if it requires it)
Shipping Information (weight and dimension)
Attributes for fitment such as part type, size, material, color, etc.
And more – yes, much more
And this is for (almost) every product you have. Some will require you to gather more info while others you can collect a little less for. Either way you look at it, though, you'll be spending a good deal of quality time with each item in your e-commerce inventory.
Here's an example of what your data in the eCommerce web store should look like once you've collected and applied it. As you can see Amazon has the technical details easy to scan on the left, and then even more info on the right to scan. As you scroll down the page they have a detailed product description and more images.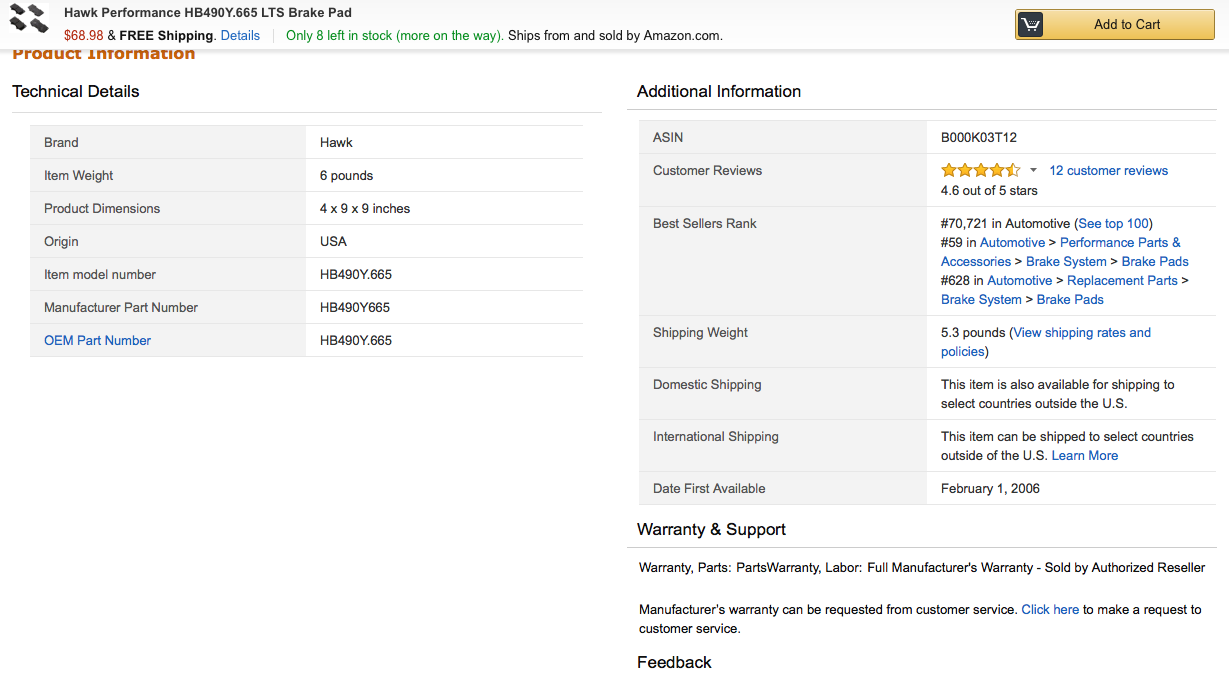 You can find complex auto data from a few different sources:
You can request it from the manufacturers.
You can enlist the services of a company that offers solutions for cataloging and managing complex auto data. Just be sure you choose someone that uses Industry Auto Care Standards and is reputable in the field (we go over this in detail in the next article in the series).
You can put the data together yourself using PDFs, manufacturer catalogs, and other sources you find to be helpful.
Now when it comes to collecting data for marketing, you'll be looking at a whole new set of places, and there isn't really a clear definition of what will be most effective for you. It depends on the brand you're developing and the direction you're hoping to go in.
However, we can tell you that one of the most important pieces of marketing data you should collect, in the beginning, is how customers have reacted to the products you're currently trying to promote. Find out why customers purchased the items, how they searched for them, and you'll have a better understanding of how to target your ideal customers and what keywords to use.
#2: Analyzing Data
Now that you've collected your data, you might be thinking – what the heck do I do now?
For starters, you can invest in an analytical tool that takes data from a bunch of sources and compiles it for you, so it makes sense together. When you try to apply your social media engagement in relation to your conversion rate, it gets confusing about how they work together when you're looking at two separate bits of info.
With an analytical tool, you'll have a better understanding of how often people log into your store, bounce rates, responses to sales, purchasing patterns, and you'll get this data in an organized way that allows you to see how each element helps (or hurts) each other.
You can also categorize your data so that you can look at each aspect of the shoppers experience in detail. If you want to have a better understanding of your check-out experience, then start analyzing data from only that end of your e-commerce store. Over time, you'll see how each aspect of the sale works together, and you'll know what direction to take when updating and improving your site.
Here's an example of the information you'll get when using Google Analytics to gain a better understanding of each session your customers have.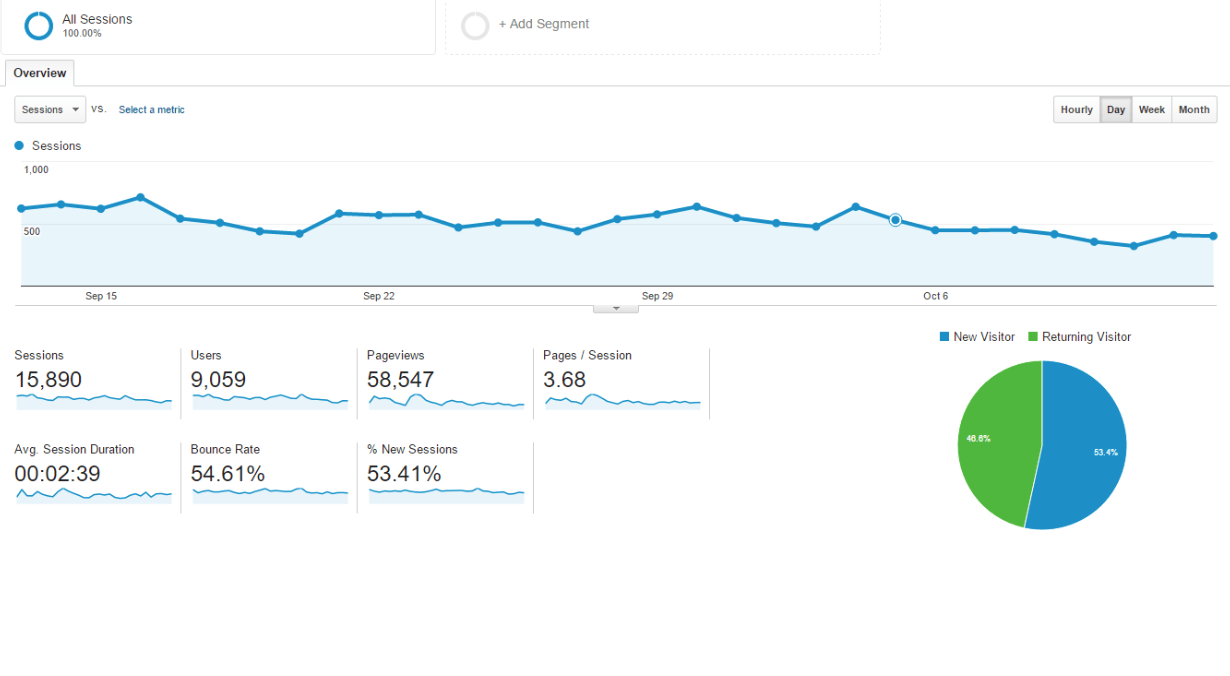 Managing data
Just because you've collected data, organized and analyzed it, and even applied it, doesn't mean you can break out the champagne and celebrate just yet. Now you've got to manage it. Here are a few tips for managing data, so you stay a current and reliable source for your customers.
Choose your products wisely. When it comes to product selection, always think quality over quantity. Having twenty well-described and accurately optimized products are better than a hundred items that are limited in specs and images. Don't worry about how long it takes you to get everything completed and on the site, because trust that it will take time when done correctly. Remember that you're not going to put this product up one time and leave it, but you'll have to continually manage it to ensure you have the correct fitments, or it isn't discontinued.
Find a system that you're comfortable with. Don't go straight for the out-of-a-box e-commerce web development system when it comes to managing auto data. You'll want something with a little more accuracy because of the complex data auto part stores deal with. Shop around and find one that caters to your particular industry, and then go from there.
Continually evaluate and improve your current products. From time-to-time you're going to want to evaluate your current products to ensure they still have the best descriptions and images, and that they are properly marketed.
Be patient.This might be the hardest step when it comes to managing data, and is another reason it's so important to keep a number of products in your e-commerce store to a suitable number. It takes time to find and apply videos, tutorials, look over fitment information, and have the content on the pages that sell.
When you put in the energy to simplify your complex data and make the most of the information you collect, then you'll have fewer returns, more conversions, and a marketing strategy for your product selection as a whole, as well as individually.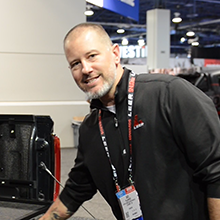 BEDSLIDE - Client Testimonial
"The best thing out of everything was that our sales went up. The new site had a better design, the checkout process was better, and ultimately achieved all of our goals. That site has been up for a year and a half and we're very happy with it, it's still awesome." - Jake Plappert