Best SEO eCommerce Product Data and Description for your Customers
If you own an e-commerce store, you've probably noticed that the competition is pretty tight these days. Owners have captured some impressive data for marketing and designing e-commerce solutions and stores that cater to their ideal customer. The good news is you can use that data to your advantage. When you're collecting information, be sure to look at the top competitors in your niche whether it's in the auto industry or you specialize in sewing machines.
Here are a few tips for making your products readily available to your customers. Plus, a look at what type of data to collect so you know what direction to go in next.
#1: Beef up your product description
You want to give people enough information about the products you're showcasing so that they're confident to buy from you. If they're left with questions or the image isn't clear, then they'll go to a secondary source to get more info. If their next stop gives them a stronger impression of reliability and product knowledge, you can say goodbye to their business.
The goal is to be more than an e-commerce store for a niche industry – it's also to offer real solutions, so the buyer knows they have somewhere to turn in case they need help. Buying online can seem impersonal, so the more available you are to answer questions and the more elevated your product descriptions are, the better your return will be.
How do you know if your product descriptions are doing the job?
You can go to your top competitors e-commerce stores to see how you match up. You can also take a little survey among friends and family to find out what sites they shop at the most and why. It doesn't matter what items they're buying, it's the overall experience you want to learn about.
If people have to go to a separate source to find out if the part your selling matches the car they own, then add a bar that lets them filter that information. If you give people one reason to leave to get more product description, they will.
Here's an example from William-Sonoma. They give you a big image that you can easily zoom in on, and their summary is thorough, and bullet pointed for scanning. Notice at the top, they list a phone number, so you immediately know there is customer service available and real person you can talk to if you need help.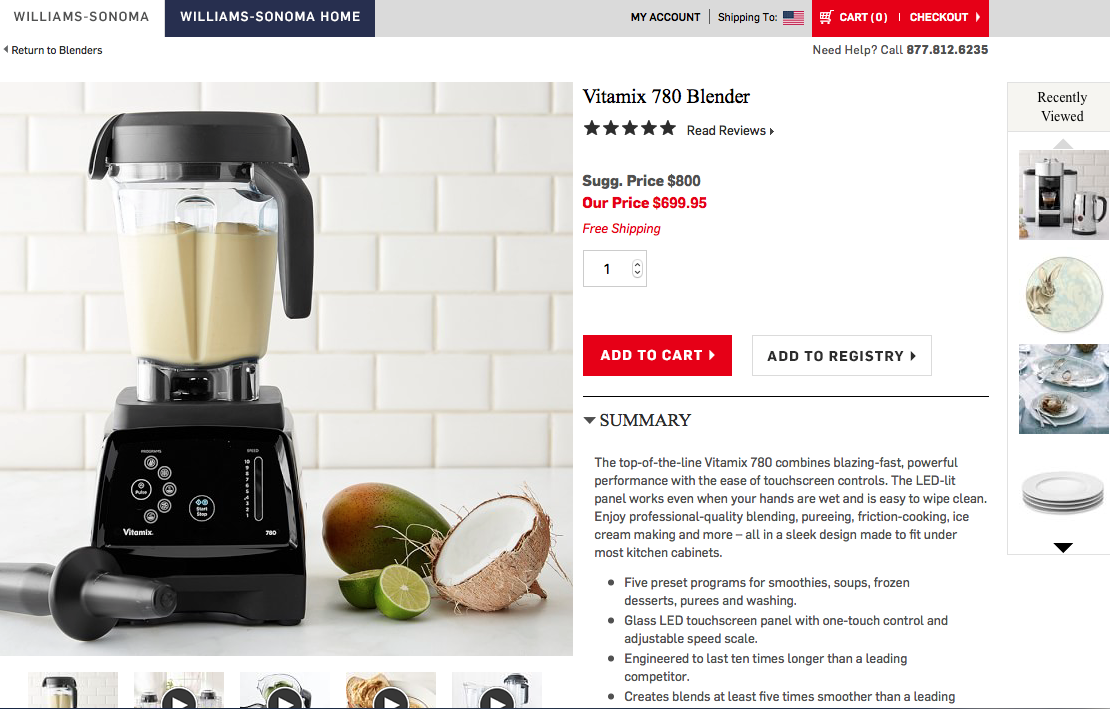 Below the summary, there are tabs for the dimensions, use & care, and shipping. They really pack all of the information in there, so buyers have no reserves about spending $700 online on a blender from them.
#2: Keep navigation simple and self-explanatory
People don't like having to guess where to go next. It's frustrating when you get lost clicking on so many pages, that you don't know how to get back to where you started. And this lost feeling can cause lost sales.
By keeping your navigation simple, you do both your customers and yourself a favor. First, your customers will thank you because they can smoothly transition from page to page as they shop.
And they won't have a reason to leave.
With a distinct design, you do yourself a favor because it's easy to gather data about what your customers like. When you have a lot going on, you might not know why customers are leaving. It could be the random pop-ups, the confusing navigation, or the long list of questions during checkout.
Here's an example of a clean and simple design from Jeep that makes complex products easy to purchase. One of the great things about the Jeep design is that they give you small bits of information to start, and as you make your way through the site, you get more and more to entice you.
Plus, the top navigation bar stays with you no matter how far you scroll down the page, so you don't have to navigate to the top every time you want to get more information.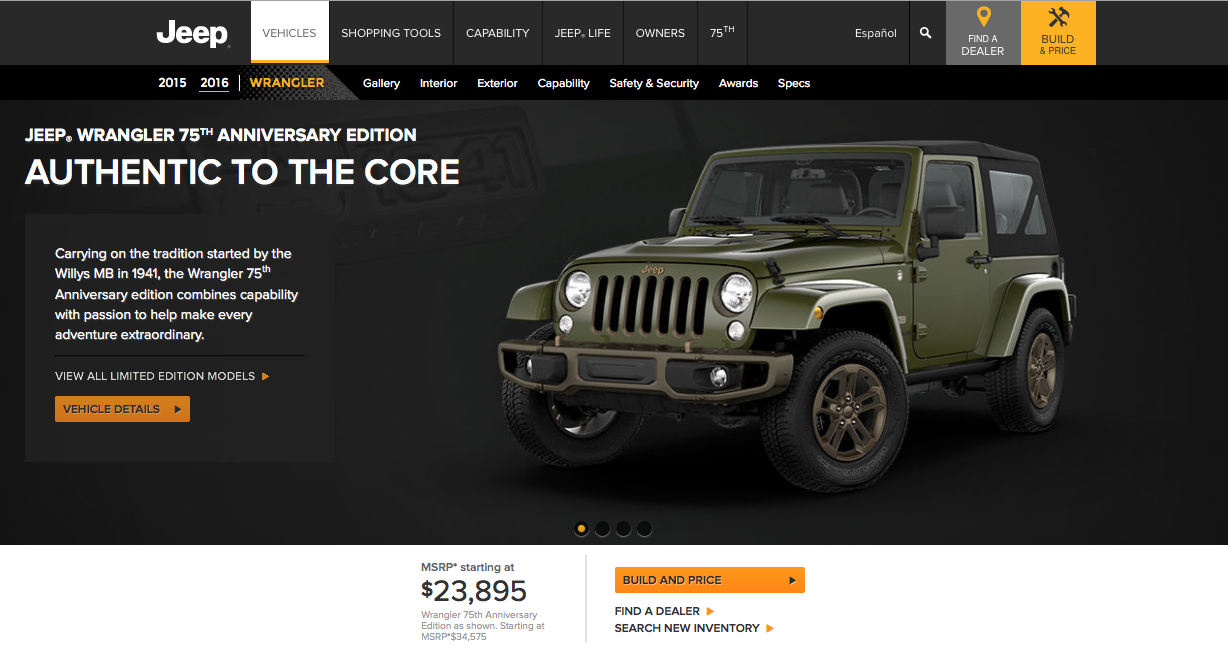 When you're gathering data, be sure to look at successful e-commerce stores that have a lot of working parts to deal with and go through the journey of what it's like to buy from them. Make notes of what is simple, and what you consider a barrier. Then look at your design and go through the same procedure to compare.
The top e-commerce companies have paid good money on research, and that's why their websites are strategically designed the way they are. Use that to your advantage!
#3: Pay attention to the checkout process
According to a 2016 study conducted by Baymard Institute, 68% of shoppers abandoned their online shopping cart. If you don't think your checkout procedure is crucial for online sales – think again.
When you're gathering data to make your checkout process the very best it can be, then first you'll need to understand what's wrong with your current system (and what's right). First, look at what the major players in e-commerce are doing to make this process successful.
Here's a look at how Home Depot does it. They have free shipping listed (no surprise cost added at the end), options to pay, security listed, and everything matches their website, so you don't feel like you're going to a third party to pay.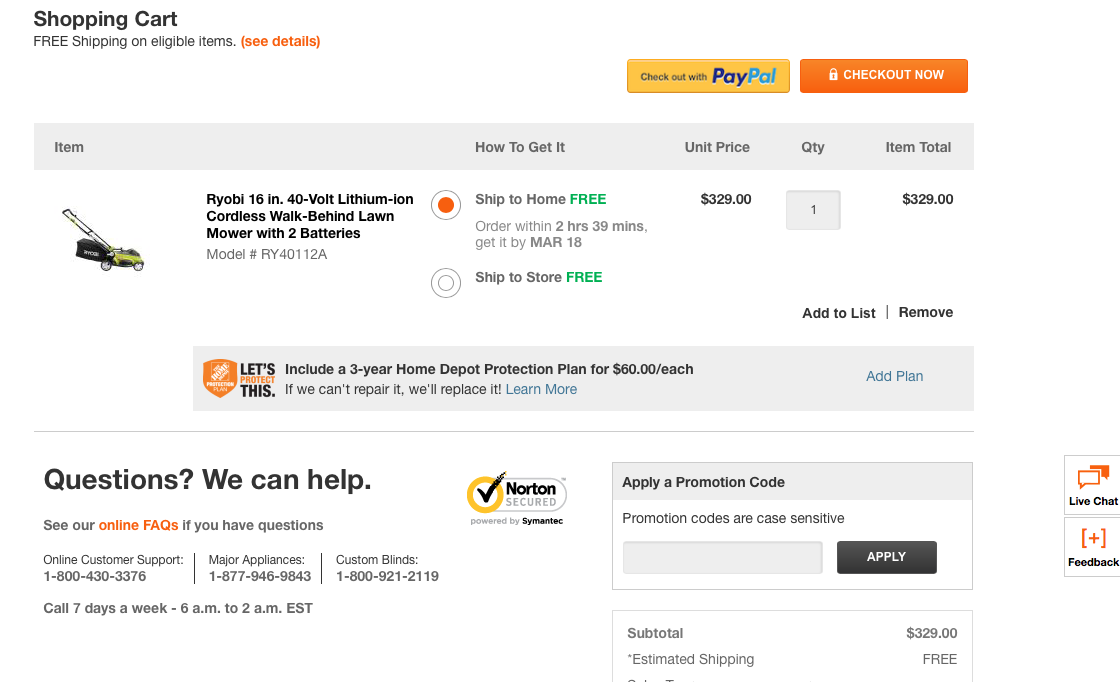 Also, here's a quick checklist of important elements that your checkout process shouldn't be without:
• Payment options: You should be able to take multiple forms of payment, and you shouldn't require an absorbent amount of information to get to checkout.
• Guest and member login: Don't kid yourself – some people aren't going to convert and join your newsletter, and you shouldn't make it hard on them. Some people only utilize your site for holidays and special occasions. They'll keep coming back if you don't make it difficult for non-members, even if it isn't as frequently as the people on your newsletter.
• Security: A secure checkout is crucial to conversions and lasting relationships with customers. Make sure that your logo and address stay on the pages throughout the procedure, and have the appropriate security icons and statements visible for people to see.
#4: Optimize your data
When you apply the images, descriptive text and other elements, take the time to optimize them accurately. Don't skip this step because it is one of the most effective ways to direct the right customers to your e-commerce store.
Even the smallest amount of seo marketing for ecommerce will help such as applying the right keywords to the text and tags. Plus, when you optimize your website, you gain invaluable customer data that can help you improve your efforts. Knowing your bounce rate, where people find you from, and how many organic visitors you get a day is a starting point for a much larger marketing plan.
And don't forget about social media. When you put featured products on a Facebook feed or promote a special coming up on Twitter, you'll be able to use the data gathered from the reaction of the post to make the next one more powerful.
Stay tuned for the next article in the series that tackles the question: Are you taking on too many products for your e-commerce store?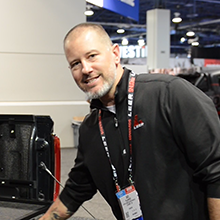 BEDSLIDE - Client Testimonial
"The best thing out of everything was that our sales went up. The new site had a better design, the checkout process was better, and ultimately achieved all of our goals. That site has been up for a year and a half and we're very happy with it, it's still awesome." - Jake Plappert