How Can T-Hub Integration Help Your Shipping Process?
Simply put T-Hub will effectively eliminate the majority of the data entry that is required to successfully manage and ship orders placed on your eCommerce website. By connecting to Quickbooks and Shipping Labels, every time an order is placed T-Hub will automatically populate the necessary shipping information and relay it to the chosen shipping service in order to print the labels required to get the product out the door quickly.
Shipping Communication
A general visualization of how the 2-way communication works in relation to shipping:
Every time an order is placed on your WSM site the information will be sent to T-Hub, which will then process it accordingly and relay it to your shipping program. The necessary label will then be created and sent back to you, ready for print.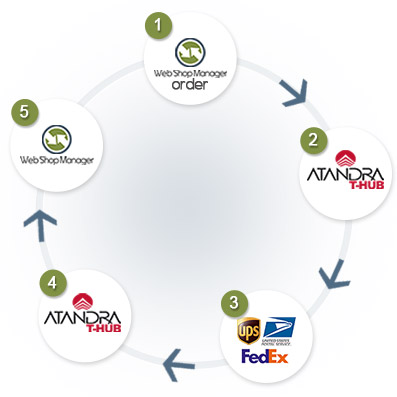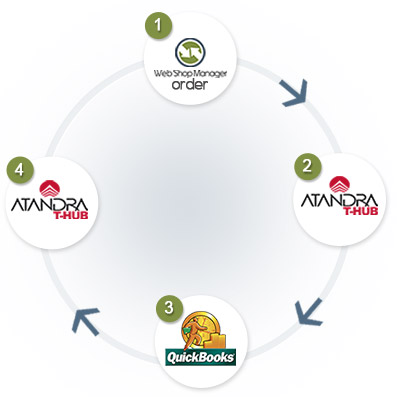 Quickbooks Communication
A general visualization of how the 2-way communication works in relation to Quickbooks:
Whenever a visitor orders something from your site, T-Hub will communicate the order to Quickbooks, which will process it accordingly and then relay the new inventory information back to T-Hub. This process would usually require manually data entry, and when the orders start stacking up it can be very time consuming!
Getting T-Hub Set Up
Prior to purchasing the T-Hub integration, you can choose to set up a free trial of the software for 15 days! Unlike other software that is similar to T-Hub, there is no monthly fee. An upfront fee which is determined by the extent of the features you have chosen will be all that is required to be completely integrated with T-Hub. This means that every new update and your continuous use of the product will not be charged again! As if that isn't enough to convince you to try it out, WDS is also offering a partial refund if you are not happy with the service
If for some reason you are not pleased with the trial, WDS can offer a refund for a percentage of the WDS/T-Hub integration payment.