Resubscribe to Contact List
Use this form to subscribe or resubscribe for Product Updates, Feedback Surveys, Service Desk Ticket updates and Webinar Announcements
If your email address has been opted out of email communications, you will be asked if you want to receive an email to reset. The email will contain instructions about how to update your preferences.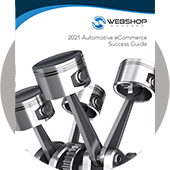 Download the 2023 Automotive eCommerce Guide
Sales in Automotive eCommerce are continuing to trend up! Once again, this year will see record-setting numbers. Ensure your business thrives with the latest tips and tricks from the pros at Web Shop Manager.