"Our Website is Head and Shoulders Above the Competition"
American Toppers is the highest volume Line-X Spray-On Bedliner franchise in the United States. The Line-X of Des Moines franchise was established in September 2000 in Johnston, IA. Since then, they have sprayed over 18,000 bedliners in central Iowa. This volume has resulted in the most experienced and best trained staff in the Midwest.
We now direct all inquiries from our marketing materials and campaigns to our website because we have confidence that it will build trust and pull people into our store.
"We've been with Web Shop Manager since February 2012 and have seen a significant increase in online inquiries, appointment setting, and product inquiries. Our website's design and functionality, especially the parts lookup and brand optimized landing pages, are the keys to local online buyers into in-store buyers. Our design is very appealing and the site is very easy to navigate. We have also been able to use the rotating banners, picture gallery, and services pages to provide a great site experience and promote our local store."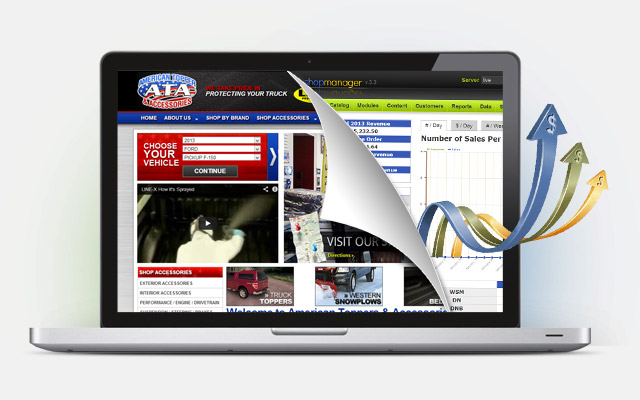 "I recommend Web Shop Manager to everyone that is looking to make the right investment in a website. You won't be able to find the same level of design, functionality, and service anywhere else for the same amount of money. The Web Shop Manager team is very professional and gets things done quickly." - Lance Arrasmith, April, 2013
Turning Online Buyers into In-Store Buyers
"With our Web Shop Manager website we have an online catalog of all our products, searchable by year, make, model, brand, and category. With our brand optimized landing pages, customers are finding our site and brand pages through local Google and Bing searches. We are able to capture online buyers and get them into our store room."
Promoting Our Product Lines
"Our Web Shop Manager site also promotes our own products, such as our used topper lines and Linex protective covers. We've seen a significant increase in sales of our products since our website went live."
Easy to Update and Maintain
"Our website is very easy to update. I do it myself, making changes to the website, adding pictures and content through the Web Shop Manager CMS. "