How to build a high performance Ecommerce category tree (for faster and more frequent purchase decisions) - Part 2/4: Preparing your data to build your tree Now that we've covered some guiding principles in post 1 , let's get your data organized for building your tree. This will be more of a challenge for larger inventories, but also of greater importance. The more products you have in store, the more essential it becomes to get that data well organized, and allow your...
---
We've hit our stride and have been very busy with some awesome new builds, events, and improvements to the platform. In this issue: HDAW/HDAD Recap [VIDEO] April 2017 New Website Releases Payflow TLS 1.2 Endpoint Upgrade Upcoming Events WSM will be attending WSM News Presentation at Heavy Duty Aftermarket Week in Las Vegas As part of the Aftermarket Briefings, I rolled out a 2017 Roadmap to...
---
2017 started off with a bang and March has been no exception. We've got new site releases, upcoming events we'll be attending, we even won another award! In this issue: WSM Wins 2017 Muse Award New ChannelAdvisor Integration March 2017 New Website Releases New Product Enhancements Upcoming Events WSM will be attending WSM News BAK Industries Website Redesign Wins Gold Muse Award The new website for BAK industries has garnered quite a lot of...
---
How to build a high performance Ecommerce category tree (for faster and more frequent purchase decisions) - Part 1/4: Four important factors to know before you start. Are you confident your Ecommerce store's category tree is driving as many sales as it should be? Could it be losing you sales? After years of working with thousands of Ecommerce stores, we've found that many store owners have trouble creating effective category trees, despite the fact that a well...
---
After having amazing success in 2016 with the first ever Ultimate Callout Challenge , the event is back. The 2017 Ultimate Callout Challenge will be hosted at Lucas Oil Raceway in Indianapolis, IN April 21st-23rd, 2017 and features drag races, sled pulls, and a truck show. An addition to the UCC event this year is the Diesel Performance Industry Expo . The DPI Expo will be one of the largest gatherings of vendors in the diesel industry. WIth a partnership between UCC...
---
You've heard the saying that "first impressions are everything" and "a picture is worth a thousand words". What does your website tell your customers? What are your competitors doing in 2017 that you wish you were doing? Extang Truck Bed Covers The Extang.com website was completely overhauled with a mix of both fresh and re-purposed content. Users are able to browse rich visual navigation menus and learn about each product line through detailed...
---
Welcome to 2017, we're so excited about what's to come this year, we wanted to share our first designs of the new year. We also want to see you at Heavy Duty Aftermarket Week, scroll to the bottom to learn more! FF Customs - Aftermarket Auto Parts in Canada Key Features: SEMA Data Co-Op, Year Make Model Lookup, Mega Menu Navigation Jack'd Off-Road - 4X4 Off-Road Parts & Accessories Key Features: SEMA Data Co-Op, Year Make Model Lookup, Mega Menu...
---
Now that we are back from SEMA and PRI, it was another great month for customer website releases. Congratulations on the new websites and we look forward to more great sites in 2017.
Top Gun Customz - Truck Suspension Manufacturer
Features: B2B/B2C Manufacturer, Dealer Portal, Year/Make/Model Search, Custom Data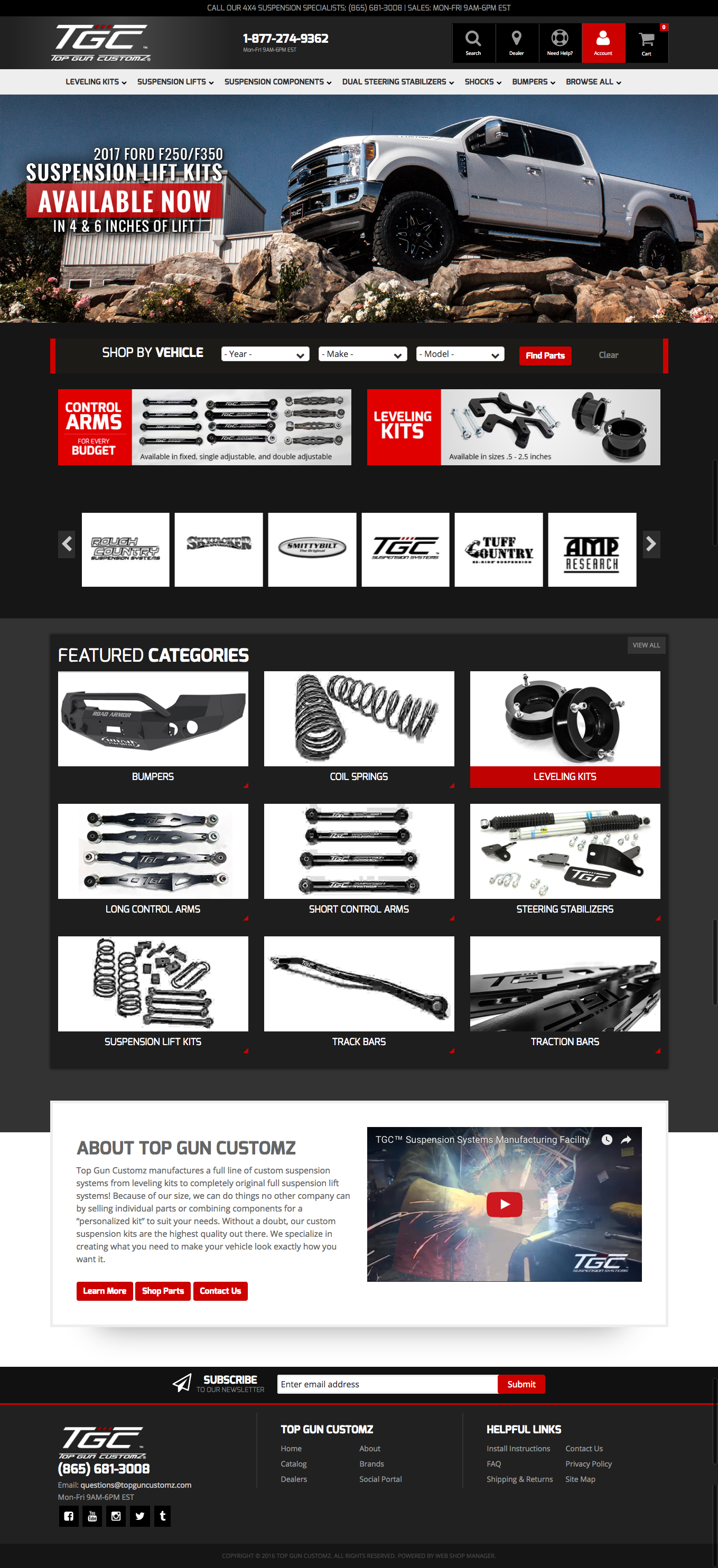 Retrax - Truck Bed Cover Manufacturer
Features: Dealer Portal & Lookup, Enhanced Product Search, Data, Mobile-Optimized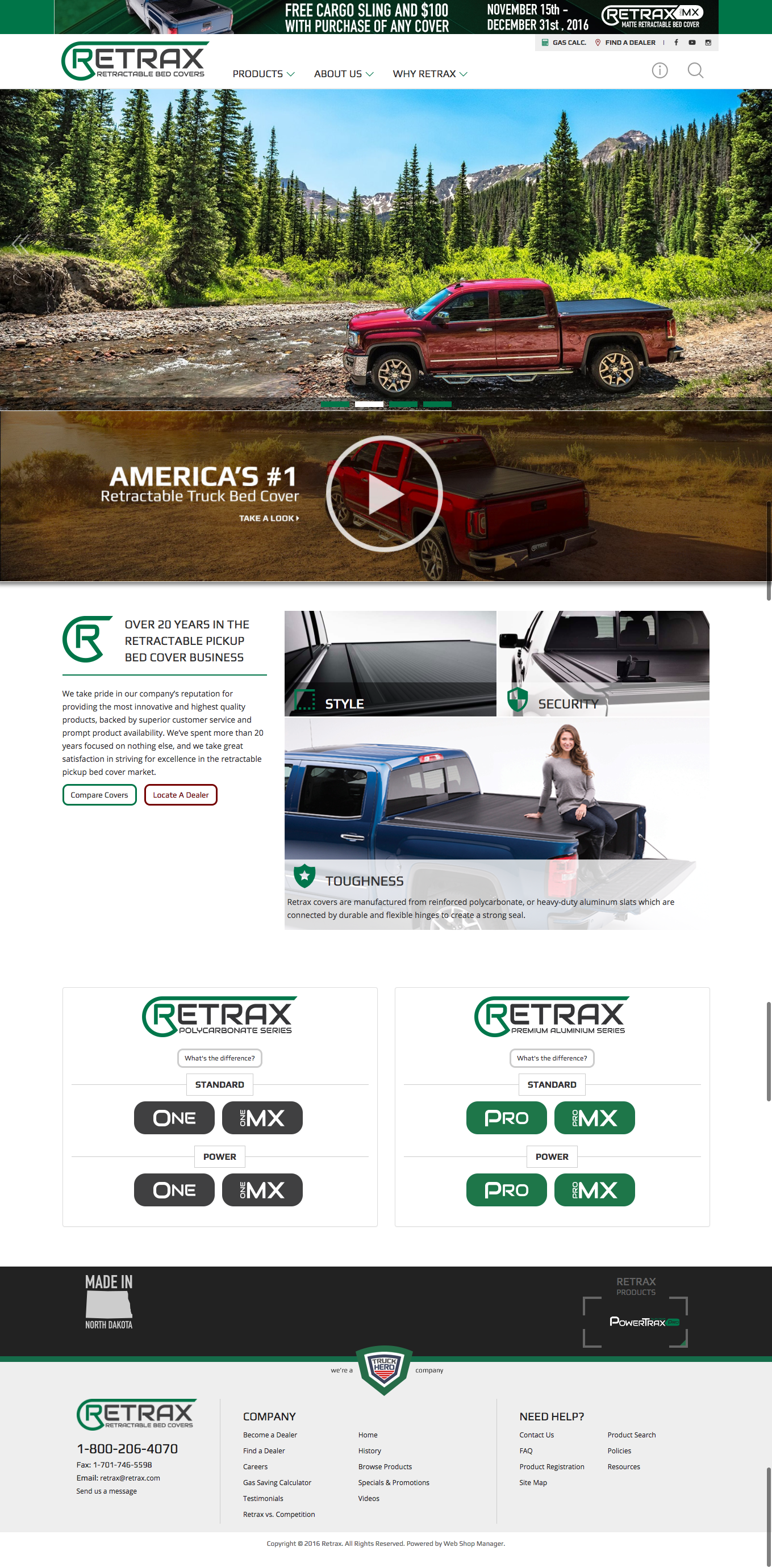 ---
We've been hard at work perfecting the ecommerce user and interface experiences. We would like to congratulate and welcome our newest clients on the successful launch of their websites in 2016... Big Country - Automotive Distributor in Mexico Features: B2B, Advanced Search, Multi-Source Data, International Currency & Lauguage Team Alba Racing - Powersports / UTV Features: Enhanced User Experience,...
---
A customer acquisition plan is an aspect of marketing that takes time to cultivate, and you'll want to give it a little room to develop so that you can collect data and then apply it strategically. However, throughout the process, you'll also want to refresh or write an action plan over when you start to notice a few areas are growing stale. Here are a few steps that you can take to refresh your customer acquisition plan without disrupting your current efforts....
---
The team at Web Shop Manager has put together for our readers a list of key drivers that can help you improve the success of your e-commerce online store. Read on to learn and review some key points that you may have overlooked or put off in order to win further market share. The Internet allows small companies to play in the big leagues. With a well-designed website, a small business can grow to reach as many people as a much larger company. Improve customer experience by offering...
---
Although it is often alluded to here at Web Shop Manager, the automotive Ecommerce market is at present in the midst of substantial growth. This market alone already accounts for over 10% of total sales online since 2014 and has continued to grow year-on-year at close to 15% since. The potential is undoubtedly there for those in a position to take advantage of it. Sales are expected to be well in excess of $6 billion by the end of 2016. Such success of course attracts new players to the...
---
Outpace your competition in 2017 with our eCommerce Success Guide featuring the latest trends and free marketing success tips.