Open source vs SaaS
So you've found yourself comparing eCommerce platforms for your automotive aftermarket business. It's likely you know who the big platforms are and have read through countless lines of jargon but are still left asking yourself:
How do the features stack up against each other? What happens if I need support? What's the difference between open source and a hosted solution? Do I need to have a developer on staff? How do I manage the data?
These are all valid questions to consider while shopping for your next (or first) eCommerce platform.
This article was written to help step you through some of these questions in comparing DIY (open source platforms) to more managed solutions (Software-as-a-Service platforms). Bear in mind that the right choice for you will depend on many things, like:
Team size
Technical resources/experience
Desired shopping experience
Desired level of support
Budget
Current technologies (ERP, shipping, inventory system, accounting, etc)
SKU count and overall catalogue complexity
First, let's define "open source" - With open source software, the original source code is publicly available and can be modified by anyone. Many open source platforms, like Magento and WordPress, have massive online communities of developers who modify and produce special plug-ins like a Year Make Model lookup for purchase. Think "bolt-on".
What's that mean for you?
Pros:
If you are an expert coder and have an abundance of time, you can customize your website on your own
You can purchase plug-ins and/or extensions to add functionality to your site if you can't code yourself
The platform itself generally does not include a monthly fee
High level of customization possible
Lots of integrations already exist (for purchase)
Cons:
High level of expertise and experience is required to properly maintain open source systems - which means a high level of expense in staffing and time
You are in charge of applying system upgrades. If you do not stay on top of this, certain parts of your website may break down and prevent site visitors from ordering parts.
You are in charge of applying security updates. Since the source code for the platform is available to anyone, that means hackers, too. Don't miss an update!
Plug-ins and extension updates are created by the person who developed them, not the platform itself. So, you are reliant upon those developers to stay on top of platform updates, otherwise, your plugins will break down. If you have 10 different plugins, that's 10 different updates you are responsible for being aware of and applying to your website.
You have to figure out hosting for yourself. Not extremely complicated, but another thing to keep track of.
You are responsible for PCI compliance
Lack of support. Most open-source platforms provide little to no support. You'll have to find a developer who can charge whatever they feel like. Or you can enter into some sort of retainer contract with a support company that will likely charge you a handsome fee just to diagnose the problem.
Costs to consider when evaluating an open source eCommerce solution:
IT Salary - $80,000 - $110K+
Support - $8,000+
Hosting - $1,000+
Total Year = $89,000+ or $14,833/mo
So, how does that compare to most SaaS Platforms?
Pros:
Phone/ticketed support generally available
Platform maintenance and updates applied for you
Integrations updated and managed for you
Hosting (SSL) and security managed for you
Easy to use Content Management System (CMS)
Shopping cart included and managed for you
Cons:
Platform generally designed for simple products like t-shirts or skin care
Platform may charge you a percentage of each transaction on top of your monthly fee
Expensive to build custom integrations and other custom features
You may still need a developer or data expert with automotive data
Forced upgrades to stay current
May lack B2B functionality
Costs to Consider with SaaS
Monthly service and technology subscription: Generally starting anywhere between $30 and $250 for extremely basic cart and functionality, no live support and no integrations.
Site-build: Can be free if you do it yourself or up to $50,000 depending on the level of customization you need.
Integrations: Free plans or 30-day trials are often available and then you'll likely be moved to a "per-transaction" basis. So this really depends on the volume you are doing.
Where does Web Shop Manager fit in?
Web Shop Manager is a SaaS platform that has been specifically designed for the automotive aftermarket industry. Since we focus on serving a very specific niche, we've been able to continuously optimize our features and integrations for our client base. In automotive eCommerce, no matter which platform you choose, you'll have to find a developer, designer, and data expert if you don't have the time or expertise to build and maintain your website - except with Web Shop Manager.
Part of what makes us different is we partner with you on the build of your website. Meaning our designers, developers, and data experts do the heavy lifting while you manage the strategy and vision. During the build, you'll be trained on automotive-specific best practices and equipped with resources to manage your website once it goes live. We've also got in-house conversion rate optimization, SEO specialists, and a customer success team to help you scale.
With Web Shop Manager, everything website-related is managed in one place and you have direct access to the people who built your website and the platform. If you value stability over customization, this is a very good option to consider.
Pros:
Updates, security, and hosting managed for you
PCI Compliant
Built-in faceted search, Year-make-model lookup, and B2B functionality
Built-in fraud protection managed for you
Live support from the same people that built your website
20+ years of experience blending data sets from different sources (DCi, SDC, ASAP, Manufacturers)
Automated order fulfillment available
Automated product and pricing updates available
No transaction fees
Ecosystem of automotive eCommerce partners
Cons:
Less D-I-Y available since you can't access the source code
Limited "out of the box" integrations available (see integrations here)
Limited payment gateways (Auth.net or PayPal)
Custom integrations and development work can get expensive
Costs to consider with Web Shop Manager
Monthly service and technology subscription: Starting at $299/mo (see pricing here)
One time site build - starting at $10,000
Total 1st year - up to $50,000+
Total 2nd year and beyond - up to $20,000+
Summary:
Open source platforms are truly awesome in many ways. There are communities of developers constantly improving code and you can customize to your heart's content. But the inverse of that is the level of expertise and investment of time required. Unless you are an expert with an abundance of time, or you have a team of developers on staff, you should heavily consider a SaaS solution.
SaaS platforms like Shopify or BigCommerce are a great place to start out if you have technical chops or the time and ability to learn. You'll be able to start at a relatively low cost and scale as necessary but keep in mind those platforms were designed to get small shops up and running.
With an automotive specific solution like Web Shop Manager, you'll benefit from a stream-lined eCommerce experience but designed specifically for the core needs of an aftermarket eCommerce business (like YMM lookup, shipping restrictions, product options and faceted search).
You're also consolidating services in one place instead of having to manage a hosting company, all your plugins, an IT infrastructure, and other unpredictable costs. You'll have more time to grow other areas of your business.
If you are looking to build your website on a solid foundation supported by 20+ years of aftermarket automotive experience, then Web Shop Manager is for you.
If you are seeking a completely customizable route, then open source is a safer bet.
Our goal is to drive the automotive aftermarket industry forward, but that doesn't always make us the right platform choice. Schedule a discovery call with us and we will assist you in weighing your options by working backward from where you want to take your business.
Need some more perspective? Set up an introductory call with an automotive eCommerce strategist today --- Click Here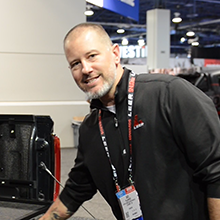 BEDSLIDE - Client Testimonial
"The best thing out of everything was that our sales went up. The new site had a better design, the checkout process was better, and ultimately achieved all of our goals. That site has been up for a year and a half and we're very happy with it, it's still awesome." - Jake Plappert