Creating an eCommerce Site from Scratch
Deciding that you want to sell your products or services online is exciting. Trying to figure out what you need to make it happen can be exhausting. Finding the right eCommerce solutions company and Content Management System (eCommerce CMS) for developing your site can be frustrating and expensive. I experienced all of these feelings and more when assigned the task to start creating an eCommerce site for my employer.
If you sell a product or service developing an eCommerce site may be critical to the continued success of your business. Businesses today can no longer afford to think locally. Instead, businesses must think globally, and an eCommerce site expands your business into the global marketplace like no brick and mortar business ever could.
Your eCommerce solution must be easy to use for the company and the customer. Find a program that will create a storefront, shopping cart and will process credit card payments with little or no web development on your part. It is always important to select a firm that offers a complete one-stop eCommerce solution. This will ensure that everything can be integrated properly without compatibility problems or relying on several different services or companies to work together.
eCommerce Solution Providers must offer exceptional customer service. It is important that you can depend on the company to be there when you need them most, when you have a question or a problem. Find a company with a great track record for reliability.
Includes functions for inventory and accounting. You need this to be fluid. Do not make more work for yourself ensure that the program includes features to maintain inventory and offers the ability to export data for use with external accounting programs.
Ensures the requirements for SSL, Merchant Accounts and your Payment Gateway are met (critical elements to a successful site). There are several technical and critical components you need to have for a functioning eCommerce site. I recommend finding a company that includes setting up and assisting you with the steps for accepting your payments for goods or services rendered online.
Supports and establishes your overall design and menu structure of your site. A company that includes a web design team will take your vision and make it a reality. Also, ensure they take the web design and establish the template for creating an eCommerce site site. You should also have the ability to change or add to your menus without creating or editing programming code.
Helps you reach your eCommerce goals within your budget and have options for monthly hosting fees. You need options and the options should include different levels for hosting your eCommerce site. These levels should be in line with the size of your business, but would not restrict your growth. Find an eCommerce provider that will allow you to start out small or large.
Offers tools to analyze your site activity, i.e. #number of visitors, searched phrases, and # of orders. You will need to review your eCommerce site for enhancements or changes based on visitor activity. There are many tools available for monitoring your visitors. Make it easier on yourself and find a company that includes this data.
Includes customizing functions to use for different views based upon the type of customer, i.e. business-to-business, business-to-consumer, or business-to-employee. If you plan to sell your products or services to different groups of people with special prices for each; then you will need to ensure that the feature to set up this type of structure is included in your site development program.
Includes features for developing customer friendly information, i.e. image gallery, FAQ, store locator, and news/blog. These eCommerce features engage your customer so they come back more often. They should be easy for you to set up and maintain.
Find an eCommerce company that has a track record of short down-time (times when your site is unavailable due to technical problems or not enough band width.) Just remember that bigger and cheaper is not always better. Find the company that has the hardware and structure to support their customers and have plans for growth as their client base increases.
After researching eCommerce solutions providers, get fresh, found Web Design Solutions and their program Web Shop Manager! Not only did their program have all the eCommerce features we needed to easily create our site, but they also have a team with exceptional customer service. Web Design Solutions guided us through every phase of web development and ensured we were ready for our launch. Our site and the tools available to create all the features exceeded our original expectations. Without Web Design Solutions and Web Shop Manager, our site may not have been as dynamic, easy to maintain, and user-friendly. They provided web design, hosting, eCommerce solutions, and Content Management System to let us control as much of the website as we desired whether it's managing our products, the checkout process, or informational pages.
We found that eCommerce website development is quite simple when using the right tools. You can see the results for yourself. Check us out at www.getfresh.net, and then visit Web Design Solutions at www.webdesignsolutions.com to get started on your site today!
Paulette Palladino, get fresh
By: Dana Nevins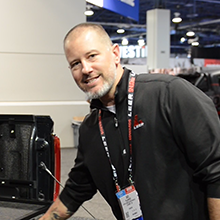 BEDSLIDE - Client Testimonial
"The best thing out of everything was that our sales went up. The new site had a better design, the checkout process was better, and ultimately achieved all of our goals. That site has been up for a year and a half and we're very happy with it, it's still awesome." - Jake Plappert