The 5 Minute Guide to Increase Holiday Season Sales
Ok…start your stop watch….now! Here is the five minute read with six ideas to help increase your bottom line from now until the end of the year. No fluff, just value here.
6 Ways to Increase Revenue this Holiday Season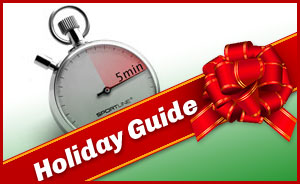 Grab Bags. Include products you are trying to liquidate along with samples of popular products, all for a bargain basement price. This way you can sell product you want out of your sale section and your customers are sampling products that they will come back and purchase again. Your customers are thrilled because they receive great products at a phenomenal price.
Free Shipping. Free shipping is the quickest way to customer's hearts. Nothing makes their hearts go pitter-pat pitter-pat any faster. If you do not feel comfortable with free shipping for all, restrict it on orders over $50, for example. Set the limit where you are comfortable and encourage a little more spending to increase the average order size.
Cross-Sell/ Up-Sell. Cross-Selling can be used to recommend complimentary products (think of …Customers Who Bought this Also Bought…), gift cards, gift wrapping, etc to increase those order totals.
Gift Guides. Here is an example, if you sell cosmetics, think of the best 10 gifts under $25 and write a blog post as a gift guide. Be sure to link your eager readers to the products!
Coupons & Promo Codes. Simple to implement and oh so glorious in terms of reception from customers. You can provide lightening coupons available only to the first 10 redemptions or coupons if you spend over X amount. However you design your coupon strategy, customers will love it.
Festive Slideshow. If you are implementing any of the above recommendations, then let customers know the instant they arrive at your site. Use your invaluable advertising space and create eye-catching, festive, or funny slides for your slideshow. Hey, be clever enough and they might create their own kind of buzz.
Deck your Virtual Halls Now for Bright and Shiny New Year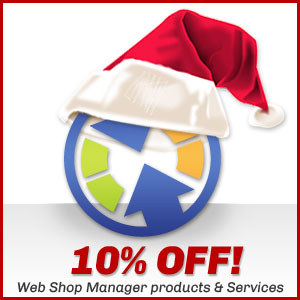 Create a new tradition and declare Cyber Monday your new favorite holiday. At least you now have a few ideas to put you in the holiday spirit and remember it is always better to give than to receive, so give your customers smoking hot deals that will keep them warm all year long. As a special treat and to demonstrate how it truly is more rewarding to give, take advantage of 10% OFF our standard pricing on all Web Shop Manager products and services purchased Black Friday (11/23/12)- Cyber Monday (11/26/12) give us a call! 619-278-0872
Happy Holidays from everyone at WSM!
By:
Dana Nevins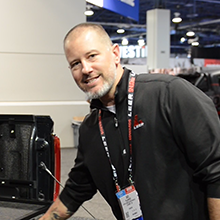 BEDSLIDE - Client Testimonial
"The best thing out of everything was that our sales went up. The new site had a better design, the checkout process was better, and ultimately achieved all of our goals. That site has been up for a year and a half and we're very happy with it, it's still awesome." - Jake Plappert