Increasing Web Traffic to your E-Commerce Store
Internet Marketing often focuses on increasing web traffic, and providing enough information to help customers convert (make a purchase), however what many fail to realize is that it takes multiple touch points with each site visitor to establish credibility, earn their trust, and capture the sale. Therefore, increasing the number of repeat visitors vs. first time visitors is imperative to increasing the bottom line.
Make your Website Sticky
In addition to multiple touch points, repeat visitors typically come back with a motive in mind. They are looking for more information, looking for contact information, and in many cases might be ready to pull the trigger. Repeat visitors typically are your long term supporters, and will help promote your site to their social network both offline and online. Be sure to give people plenty of reasons to come back to your website by making your site 'sticky' and increase your site traffic.
Examine you own experiences with websites. What websites do you visit daily? Have you ever visited a fantastic website only to realize later that you have no idea how you found it or what the domain name was? After critiquing your own experiences you may begin to form ideas for your own site. Why would someone want to come back to your website?
Things that will make them come back for more!
Making your site worthy of repeat visits is well within your control. Use Google Analytics to determine what percentage of your site visitors are returning versus new. Once you have established your baseline you can make a determination about your goals. In order to reach your goals of increasing the percentage of returning visitors you will have to incorporate some new ideas to keep them coming back for more.
One way to do that is by creating fresh content. Give your site visitors something new and exciting to read or look at. Fresh content could come in the form of newsletters, email marketing campaigns, e-commerce blog posts, or updated site pages.
Consider transparency when communicating your value. Your customers will come back to your site time and time again if you are able to positively respond to criticism. Testimonials, about us pages, SSL certificates, and security badges go a long way to promote customer confidence. Be sure to win their trust and your faithful flock will grow exponentially.
If you have exclusive content, competitive pricing, or value added services be sure to clearly articulate the differentiating attributes of your company or service. Make it easy for people to understand why you would be the best company to chose.
Also, create a clear branding image. Create consistency across all marketing collateral both online and offline. Be sure to use the same logos, colors, fonts, etc to help customers know that they have found their trusted brand wherever they chose to seek you out.
Take the fear away by answering questions that your target market may have. Remove any barrier to trusting your company.
Showcase daily specials or offers to give your customers an incentive to stop by your website every day.
Don't forget the power of suggestion. Suggest that your site visitors bookmark your site or add to their list of favorites so you never have to run the risk of potential customers not knowing which search terms to use.
Make it simple to contact support, or access a representative via live chat. Questions and concerns preventing a sale can be easily remedied by a trained representative. Make it abundantly clear how to reach the appropriate party.
Leave Little to Chance
Creating a website that not only engages customers but keeps them coming back for more is a goal that is measurable and can be improved over time. Utilize some of the ideas mentioned above and enjoy the benefits of repeat visitors due to a 'sticky' website.
For more information on improving conversion rates and web traffic tips please visit several other articles in this series by clicking – Improve Conversion Rates. Not sure how to create a website designed to be sticky? Call Web Shop Manager today, or request a free web design quote from San Diego's premier website design company, Web Shop Manager.
By:
Dana Nevins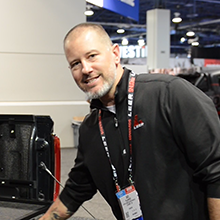 BEDSLIDE - Client Testimonial
"The best thing out of everything was that our sales went up. The new site had a better design, the checkout process was better, and ultimately achieved all of our goals. That site has been up for a year and a half and we're very happy with it, it's still awesome." - Jake Plappert