Is it Still Possible to Improve Google Pagerank?
In a nutshell PageRank, often referred to as Google PR, is Google's way of determining the "importance" of a web page by looking at what pages are linking to it, or the quantity of backlinks. PageRank is defined by a scale of 0 to 10 with 10 being the highest possible score. Google PageRank determines the position of your eCommerce website on the Search Engine Results Pages (SERPS). PageRank is based on a complicated algorithm, with importance weighted on backlinks.
From Google "in general, webmasters can improve the Google page rank of their sites by increasing the number of high-quality sites that link to their pages."
What is Google PR and why should I care?
Building links with high quality, relevant websites is where you should concentrate. Yes, this is time consuming but so is updating your fantasy football league and you find plenty of time to do that!
Be sure to stick to best practice guidelines when partaking in link building activities. Just like all things you do online, make them genuine and sincere or they aren't best practices. If the line begins to blur, or Google thinks that you are asking for links, you may be penalized. Think of it as building relationships versus just simply building backlinks. Here is a roundup of some of our favorite ways to build relevant backlinks online:
Directories & Bookmarking
You shouldn't have to pay for your friends and you don't need to pay to be added to directories either. There are many great directories and bookmarking sites out there which will be happy to include your url and company listing. Take some time to search for industry specific directories that may not be listed here.
Business Listing Directories
List your website in all the business or search directories like Google's Places, Yahoo!, Bing, Yellowpages.com, Yelp, and Hot Frog. Be sure to add as much pertinent information as possible to these listing for both potential customers and search engines.
Encourage customers to leave reviews on directories for word of mouth marketing, and content value. In addition to fantastic content, these reviews can be used for keyword research. Remember, it is what your customers would think to query, not what you, industry leader would use.
Search Directories
Add your listing to search directories where topics are organized by categories, a few of which include; DMOZ, Yahoo Directory, Squidoo, and Google Directory.
Social Bookmarking Sites
Social Bookmarking sites encourage linking to articles and websites that their users find interesting. Typically they are given tags and descriptions.
Establish a profile, with a link to your eCommerce website, and then encourage your faithful flock to bookmark your posts to find later on, and of course give you another link. Some popular Social Bookmarking sites include digg, delicious, and StumbleUpon. Each one of those Book Marking sites may be more or less popular for use in your industry. Ask your colleagues where they keep their bookmarks, or search for your peer group within the bookmarking sites to see which is the most widely used.
Social Media
Develop profiles on social networking sites like; Twitter, Facebook, LinkedIn and YouTube. Providing valuable content is the most effective way to get the attention of readers and grow the amount of traffic to your eCommerce site. Use these profiles to promote blog posts, eCommerce products, and site pages. The larger the following the greater the chances for the buzz to generate incoming links for your eCommerce website.
Article Syndication Sites
Google Feedburner, ezinearticles and other blog syndication sites work like a syndicated TV show and will help you get exposure for all your hard work. Leverage a larger network than you would have with your own mailing list for instance. Once you have done the dutiful deed of writing fabulous content make sure to maximize your reach. These submission sites will provide a link back to your eCommerce website in addition to helping grow your readership.
Online Reference Sites/ Industry Specific Sites
Each industry will have its own industry specific sites which may link to interesting content. Submit your work for consideration, and add your url to online reference sites like Wikipedia.
Write Content Worth Linking To
Writing content of value for your target audience is ultimately the trump card in link building. Interesting, helpful blog posts, and content pages that answer common questions, review products, and examine industry issues will become invaluable to your potential clientele. From within this content actively look for ways to link to other areas of your own eCommerce site using keywords or phrases as the "anchor text" (text used for the hyperlink) to help build relevancy within your own site. Well researched, thoughtful content may be used as reference material for other websites and will only further your relevancy and status as an industry leader.
Fresh and Re-Fresh Content
Update content often. Review stats and figures and what was the 2009 industry outlook can easily become the 2011 industry snapshot. Staying relevant with current trends will draw the attraction of potential customers and search engines alike.
Add URL to Collateral
If your url is not recognizable and everywhere, you will not get noticed. Add your url wherever you might add your phone number, or email address. Your well designed, easy to navigate eCommerce website is a reflection of the level of service your company will provide, so put your best foot forward on everything you do. Get in front of people, over and over again. The more they see your website the likely hood that they will link to it will increase.
Give Away Information
Want your content to spread faster than a wildfire? Give it away for free. Ask only for a mention in exchange for the use of photos, content, stats and figures.
Blog Search Engines
Have a blog? Include your blog in blog search engines including; Technorati, Google Blog Search, and Ask.com Bloglines.
Cross Promote Collaborate with colleagues on co-authored blog posts in order to leverage both networks. Encourage respected "guest bloggers" to write blog post on your site about topics they are experts on. Your audience will benefit from their knowledge, and the "guest bloggers" network is more likely to become familiar with your website. Similarly, you may suggest to a complimentary website, or blog that you would like to write a blog post for them regarding a specific topic that you are an expert on, hyperlinking your signature back to your website.
Shopping Data Feeds
Find targeted leads for your eCommerce sites as well as increasing the number of backlinks. There are many comparison shopping sites, some work like PPC advertising, while there are several free sites that you should be aware of; Google Product Search, bing Shopping, and thefind.
Leave Comments
Well written blog posts are begging for a comment. Many blog posts have a field for your url when you sign in to leave a comment. Leave a url for future generations and a backlink to your website!
Use SEO Keywords and Phrases Whenever Possible
Use keywords and phrases selected to correlate with your target market to create titles, and content. Leave no opportunity for powerful keyword phrases unturned!
If you enjoyed these tips to increasing your Google PR, please be sure to sign up for the WSM RSS feed. We don't want you to miss a thing!
Looking for an eCommerce design company that wants you to succeed and make money as much as you do? Look no further than WSM for all your online hosting, web development, and website design needs. Contact WSM today to see how we can help your eCommerce company thrive online.
By: Dana Nevins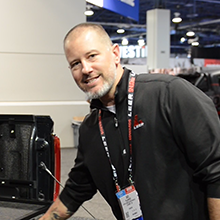 BEDSLIDE - Client Testimonial
"The best thing out of everything was that our sales went up. The new site had a better design, the checkout process was better, and ultimately achieved all of our goals. That site has been up for a year and a half and we're very happy with it, it's still awesome." - Jake Plappert