February 2017 Web Shop Manager New eCommerce Website Designs
You've heard the saying that "first impressions are everything" and "a picture is worth a thousand words". What does your website tell your customers?
What are your competitors doing in 2017 that you wish you were doing?
The Extang.com website was completely overhauled with a mix of both fresh and re-purposed content. Users are able to browse rich visual navigation menus and learn about each product line through detailed landing pages and verify fitment of products to his or her truck. In addition, Extang Dealers now have a portal to access exclusive content, digital assets, and can order replacement parts right from the portal.

Key featured include:
Responsive and functional across all devices, large and small
Rich magazine style product information landing pages
Visual mega-menus to reduce clicks and improve navigation
Product Data support with Advanced Guided Search
Users can verify vehicle fitment on product pages
Dealer portal with exclusive content and ability to order replacement parts
New THI Site Launches for 2017

---
"The team over at Web Shop Manager just finished a large project for us and we are very happy with the results. Ryan and Marco both did a fantastic job on design and Dale was a true pleasure to work with on a day to day basis as the lead project manager. I feel that the entire team at WSM bent over backwards and went above and beyond to make sure we had exactly what we were looking for on time and on budget. I highly recommend."
-Stuart Compton, THI
---
We're very proud of our customer's hard work and dedication to their brand.
My team will be at these two events, if you're planning to attend, we'd love to chat with you.
Oh, and we're hiring! Click here to learn about career opportunities with Web Shop Manger.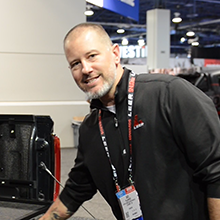 BEDSLIDE - Client Testimonial
"The best thing out of everything was that our sales went up. The new site had a better design, the checkout process was better, and ultimately achieved all of our goals. That site has been up for a year and a half and we're very happy with it, it's still awesome." - Jake Plappert