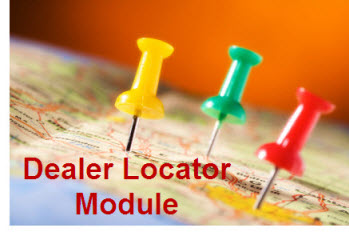 Create Online & Offline Success with the Dealer Locator Feature!
If you have multiple locations that your business operates out of, or work in the Manufacturer eCommerce industry, a Dealer Locator is a must have on your website! Finding ways to purchase your product should always be the easiest thing for a visitor to do on your site, and that includes finding brick and mortar locations. Using Google Maps, Web Shop Manager's (WSM) Dealer Locator module can integrate any number of locations onto a map where site visitors can easily access the information they're looking for.
WSM's Dealer Locator Module even includes a search function that enables your site visitors to actively seek out the nearest locations! This feature is so intuitive that the visitor needs only to enter a zip code, and Google Maps will automatically list all of the relevant locations within a set distance. Alternatively, an entire address can be provided and the Dealer Locator will map the exact location for the user.
Use the Dealer Locator to Map Important Locations
There is much more that you can do with Web Shop Manager's Dealer Locator Module besides simply listing all of your retail locations. WSM has made this feature so dynamic and easy to use in the back end that a variety of useful applications become possible. For example, some of the most popular uses for the Dealer Locator Module are:
Product Dealers. If you are involved in Manufacturing eCommerce or any other industry that involves maintaining a strong group of product dealers, WSM's dealer locator module can be a lifesaver! Formulate a list of your company's dealers so your customers can stay up to date on where your products are available. Complete these listings with phone numbers and store information, and your site can act as the central hub of communication for all things relevant to your business!
Retail Locations. If you operate any retail locations yourself in addition to your online eCommerce store, WSM's Dealer Locator Module is perfect for letting your customers know. Keep these listings up to date on your site and you may find yourself generating more sales at your brick & mortar locations from those customers who would rather not buy online.
Trade Shows & Events. Making an appearance at trade shows can provide an enormous boost to your company's success, but only if people know about it! Use your Dealer Locator module much like you would use a calendar feature and announce any upcoming trade shows or events that your company will be involved with in the near future. Not only will this spread the word, the location will be marked right there on the map so the visitor can find it easily.
WSM's Dealer Locator Module Can Create Success Online & Offline!
A dynamic and easy to use Dealer Locator Feature can be a huge asset to anyone who maintains a variety of product dealers, like a company involved in Manufacturer eCommerce. Using WSM's dealer locator module, it is amazingly easy to keep an active list of product dealers, retail locations, or trade shows & events that your company is involved in. Integrating with Google Maps means that site visitors can simply enter a zip code and find anything relevant to your company in the immediate area. This is a great way to increase in store sales for both you and your dealers, because there's no way around the fact that some people just don't feel comfortable purchasing online. Don't lose those sales; utilize WSM's Dealer Locator Feature today!