The Power of Suggestion
Online shopping provides a unique opportunity to offer suggestions the way a good sales person would do if the purchase were made in person. A "may we suggest" section is a great way to up-sell and cross-sell your products.
For instance, if you sell horse supplies and someone is viewing a saddle pad, you could:
Up-sell – Display more expensive saddle pads
Cross-sell – Assume they have a saddle, if they are looking at saddle pads, and therefore recommend related items including saddle soap and leather conditioners
Use up-sell/ cross-selling Techniques to Increase Sales for your eCommerce site
Web Shop ManagerTM (WSM™) understands the power of these techniques so fully that they have incorporated them into the Content Management System (CMS) as one of the standard product offerings. Imagine the classic "do you want fries with that?" working for your eCommerce site.
Strategically placed products can help to increase online sales and simplify the shopping experience. Prominently feature products and categories on your home page to help customers navigate your product catalog and help lead them toward conversion.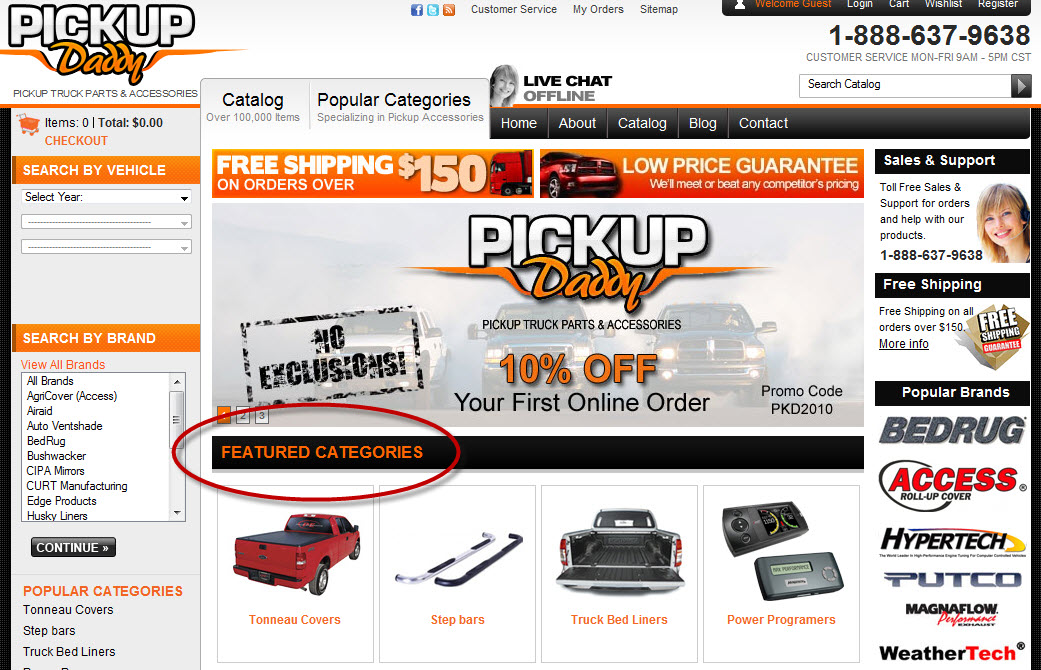 With WSM™ as your eCommerce CMS it is incredibly easy to create a customer experience that leads customer to click "add to cart". Having complete control is empowering when you have our fanatical support team ready to guide you through the process. The good news is that our Content Management System is so intuitive that you will quickly feel comfortable and confident with your new found freedom.
Product Pages and Shopping Carts, oh my!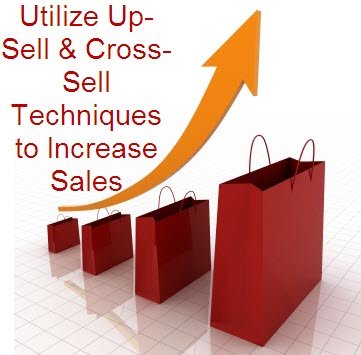 Site administrators have control over how up-sell/ cross-sell is displayed and utilized on both product pages and in the eCommerce shopping cart.
Quantity – WSM™ allows you to control the quantity of up-sell/cross-sell products to be listed on the product pages.
Product – You can also control which products are shown. Specify if add-ons, or higher price point items are displayed.
Automation - If products are not specified, WSM™ will use an algorithm to display items that were previously purchased together. However, if there are no previous purchases to reference, items will be chosen from the same category, as assigned by the site admin.
Smart Shopping Cart Promotion
Put the power of impulse buying to work for your eCommerce site. Leveraging your eCommerce products to increase sales has never been easier.
During the check-out process suggested products can be shown to help increase order size. If enabled, three items will be selected and displayed based on the same algorithm that selects items for the product pages. However, WSM™ is smart enough not to display the same item that is already in the cart.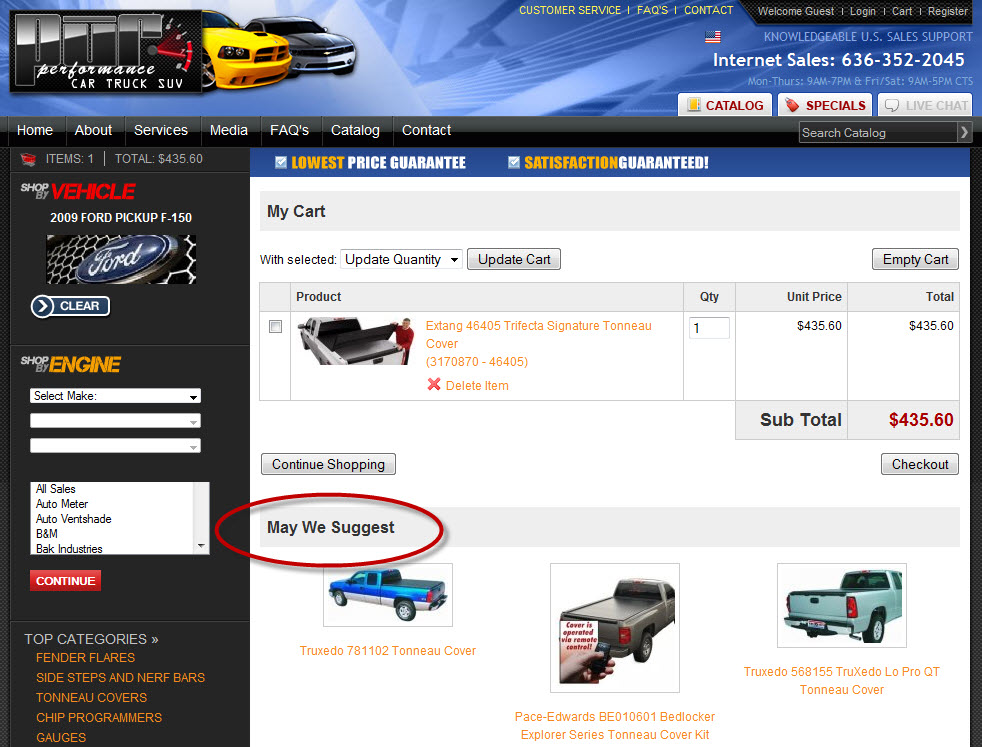 Because you control the settings, you can determine what you would like to suggest. Suggestions may include insurance on shipments, expedited shipping methods, higher priced products, or complimentary product offerings. For instance, if the item in the eCommerce Shopping Cart is a bed cover, suggest several truck bed liners.
Easy to Control Settings
Product pages offer the perfect opportunity to suggest additional items, and can be managed easily with the WSM™ CMS. Here is your how-to-guide:
Product Pages Settings
While in the dashboard review the Configuration/Catalog to set the number of cross-sell products you want listed on your product pages. If not specified, WSM™ will automatically select products from the same category for you.
To stipulate which cross-sell products you would like listed on the products page, click 'Open Cross-Sell' button. Click the checkbox in front of each product you want listed. If you select more products than your Configuration/Catalog setting, they will be randomly selected each time the product is viewed. To remove a product, remove the checkmark by clicking the checked box under each category that product is listed.

eCommerce Shopping Cart Settings
The settings in the Cart section of the Configuration will determine the WSM™ features that are available to your customers on the product pages and the eCommerce shopping cart.
Highlight System, Click Configuration, Click the Cart Tab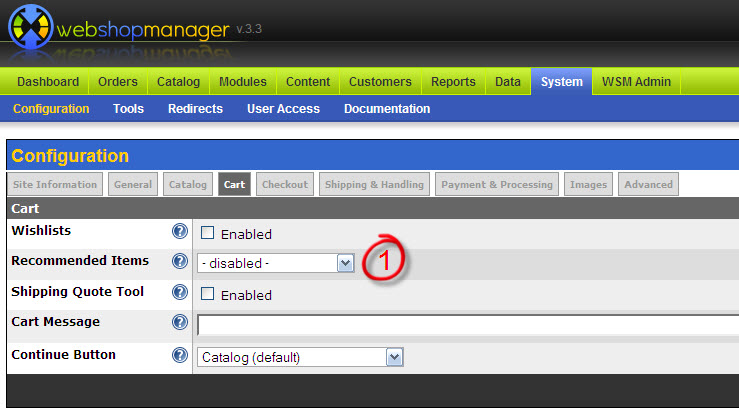 Recommended Items – You have three options to select.
Disable –will turn this feature off.
Auto generate - will randomly display products from your specified cross-sell, if set, then for products that were purchased together from prior orders, and finally for products in similar categories.
Category name - products will be randomly selected from the category. If you select auto generate or a category, the products will be displayed on the cart screen below the estimate-shipping feature.
Equip your eCommerce Site with Improved Sales Functionality
WSM™ makes it incredibly easy to start employing powerful sales techniques right out of the box. By enabling the tools to work you can improve:
Product Exposure – Your product breadth may be much greater than your customers realize. One way to help increase their awareness is from cross product promotion.
Sales – The benefits from up-selling/ cross-selling have been realized by all great e-tailers including giants like amazon.com. Learn from their success and utilize these incredible tools for yourself.
Customer Satisfaction – Many products would be more effective with additional add-ons. Make sure your customers are aware of these options by dialing in your cross-selling listings.
Learn more about putting this remarkable eCommerce CMS to work for your company. Request your free web design quote today.