Great Automotive Logo Design | Web Shop Manager
A great automotive logo design can help your business stand apart from the hundreds of other automotive eCommerce sites out there. Below are three examples of what makes automotive logo designs appealing to potential customers and three examples of great logos that Web Shop Manager has designed for our clients.
Your automotive logo does not need to be what you sell: Although many companies opt to include a car or truck in their logo, most companies decide for their logo to be their name. By customizing your company name into a design, you not only make it visually appealing but also make the name of your company or business easy to remember. Many automotive company logos such as the Mercedes trident has nothing to do with cars but has become one of the most recognizable logos in the world.

Your automotive logo design needs to be simple: Try to avoid making your logo or design overly complicated. The simpler it is the easier it is for a customer to look at and absorb the information. If there is too much going on then you will lose people's interest and it will most likely be a bad design - make sure when a client sees it they know exactly what it is.

The connection between seeing and understanding is vital: Try to make sure that what you sell is apparent in your logo or design. Most automotive eCommerce businesses have some sort of reference to what they sell in their business name so this should not be too difficult.
Examples of great automotive logo designs that use company names:
In all of the above examples, the logos are simple and easy to look at. It is clear what the company sells and is about – Web Offroad sells offroad parts for performance trucks and jeeps, Bomb Shelter Diesel Supply sells parts for diesel cars and trucks, and American Speed and Custom sells custom parts to increase your ride's speed!
By:
Dana Nevins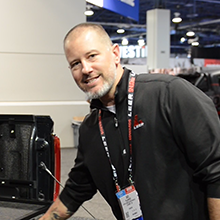 BEDSLIDE - Client Testimonial
"The best thing out of everything was that our sales went up. The new site had a better design, the checkout process was better, and ultimately achieved all of our goals. That site has been up for a year and a half and we're very happy with it, it's still awesome." - Jake Plappert