Web Shop Manager - Automotive eCommerce
If you have been looking for the ultimate Automotive eCommerce solution you have come to the right place. Created by an automotive enthusiast for the automotive aftermarket, Web Shop Manager has every feature you could want when it comes to your eCommerce options. The fact remains that people do not want to buy parts from a broker: they want to buy from another enthusiast who will help them when they have tech questions and be there if they need help. Our platform with its complete Automotive Content Management System allows you to post engine tech articles; upload classic car restoration photos; create frequently asked questions and answers; present a survey on what aftermarket lines you should offer next; show a schedule of events including what days you will be at SEMA; even link to partner performance automotive websites.
Here are some more advantages to Web Shop Manager's Automotive eCommerce Shopping Cart...
Entire team of passionate automotive aftermarket enthusiasts.

Top shelf, conversion oriented automotive website design.

Best in class seamless Catalog Rack DCi eStore integration.

Year, Make, Model, Color, Size Attributes & Options.

Statistical dashboard covering sales and inquiries.

Extensive built in customizable & automatic SEO.

Google feed uploaded automatically to Google Shopping.

Yahoo and other shopping site product feeds available.

Integrated live chat - increase conversions to 20%!

"Web Shop Manager" your automotive content management system.

Extensive Import and Export tools with scheduling.

Photo Gallery, Event Calendar, News Blog, Surveys, Links.

Domain Name, Dedicated IP, Secure Checkout, PCI Compliance.

Internal credit card processing AND/OR paypal processing.

Revolutionary cart, wish list, and one page checkout.

Live UPS, Fed Ex or custom shipping rate quotes.

Limitless coupon, promotion, & order discount system.

Built in cross sell, up sell, product reviews, Tell-a-friend.

Automatic real-time Quickbooks and Shipworks integration.

Total customer relationship management inquiry system.

Extensive logging and reporting to keep tabs on your business.

Domain redirects and landing pages for marketing and SEO.

Point Of Sale order management & processing interface.

Spend your time making more car parts and truck parts sales!
By:
Dana Nevins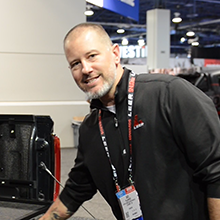 BEDSLIDE - Client Testimonial
"The best thing out of everything was that our sales went up. The new site had a better design, the checkout process was better, and ultimately achieved all of our goals. That site has been up for a year and a half and we're very happy with it, it's still awesome." - Jake Plappert