eCommerce Analytics: Complex Product Data Sources Online
Data has been helping businesses for decades. It touches all aspects of the e-commerce analytics world whether you're looking for information to support your SEO efforts, you need complex product data, or you want to know more about where your ideal customers hang out on social media.
There are a TON of places you can collect data from, but it's crucial you focus on quality and reliable origins to provide you with the information. Here we break down a few unique sources to find data and how to apply the information to your e-commerce store.
Finding data sources
These sources will help you get started. Of course, there are much more, and you should really be thinking outside the box when it comes to collecting information. Just remember always to read the fine print or ask permission to make sure you can use things like images and videos if you plan on publishing them on your website.
PDFs: There are a lot of PDFs online written by very reputable sources that you can utilize for complex auto part data. And one of the great benefits of using them is that you'll often see on the last page that the sources and references are listed if you need to dig a little deeper.
Dealer manuals: Dealer manuals will give you an in-depth look at what a specific car or auto part has to offer, as well as the universal features. You can look for thorough descriptions, high-quality images, and anything that can help you gain a better understanding of the particular auto part you're putting in your e-commerce store.
Here's an example of an image you get from a battery manual from AC Delco: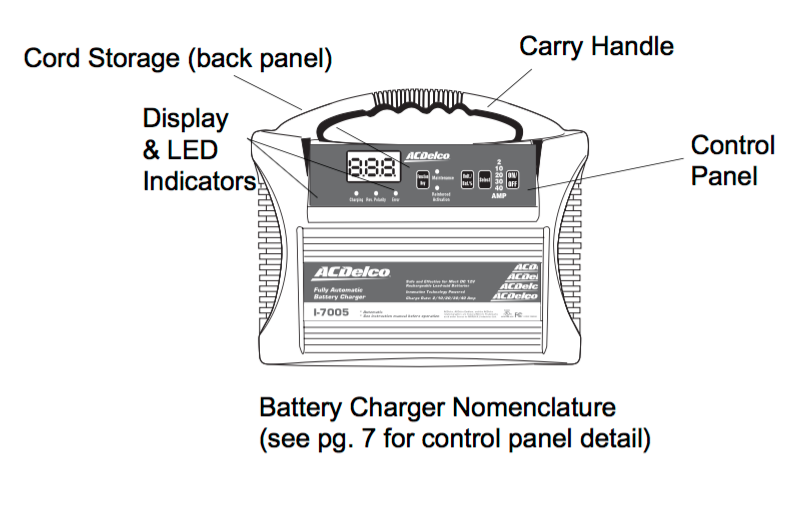 While this isn't going to be the product image you'll want to use, the information in this picture (and the ten pages that follow) will help with tutorials and to further explain the product to consumers.
Manufacturers and eCommerce website platforms are the best turnkey shopping cart solutions online : while you won't always be able to use the images and descriptions provided, they will give you a good idea of what you need to strive for regarding quality.
However, don't hesitate to reach out the manufacturer to see if you can use product images, videos, and other marketing tools to enhance your online store. Some will be more than willing to let you have them while others only allow certain people access.
Real customer reviews: While every customer review should be taken with a grain of salt when you're trying to gather data on auto parts, you should listen to what people are saying.
For example, you might find a product that doesn't ship with a particular component that many people expect to come with the purchase. You'll see in the reviews that this caused many people to have to make an additional trip to a local auto store.
Now that you have that ecommerce analytics information, you can add value to your description and let people know that they need to purchase an additional accessory to make the item work. Because you've found this information, you have the opportunity to sell two products, and save your customers a trip to the store later.
E-commerce companies:An e-commerce company that specializes in your niche will often have their own sets of complex data (or they'll know exactly where to find them). Don't hesitate to reach out and see how they can make the process easier.
Steps for applying data and making it useful for customers
Now that you've collected the data, here we've listed a few steps to help you break it down so that it's useful for online shoppers.
Step 1: Know the verbiage to use for your customers
It happens more often than you may realize that e-commerce stores lose customers because the jargon is over their head. It's not easy to make data understandable for every person that is applying it. A professional in the automotive industry might understand what you're putting on the page, but a hobbyist or DIY-er may not have the knowledge to fully comprehend it.
If your only focus is the professional, then put out exactly what you think they want, but if you want to reach a broader range of people, then be sure that you break down the data for your customer in an understandable way.
Step 2: Don't just tell your customers – show them
When you have complex auto part data to apply to your best ecommerce store cms and simplify for your customers, then don't just tell them, show them! You want customers to be confident in making the purchase, and one way to do this is to give them visual aids such as infographics, videos, and tutorials with detailed and quality images to help them through the steps.
Here's a great example from Pennzoil. You can see one of the eleven images they use and the first 4 steps to change your own oil.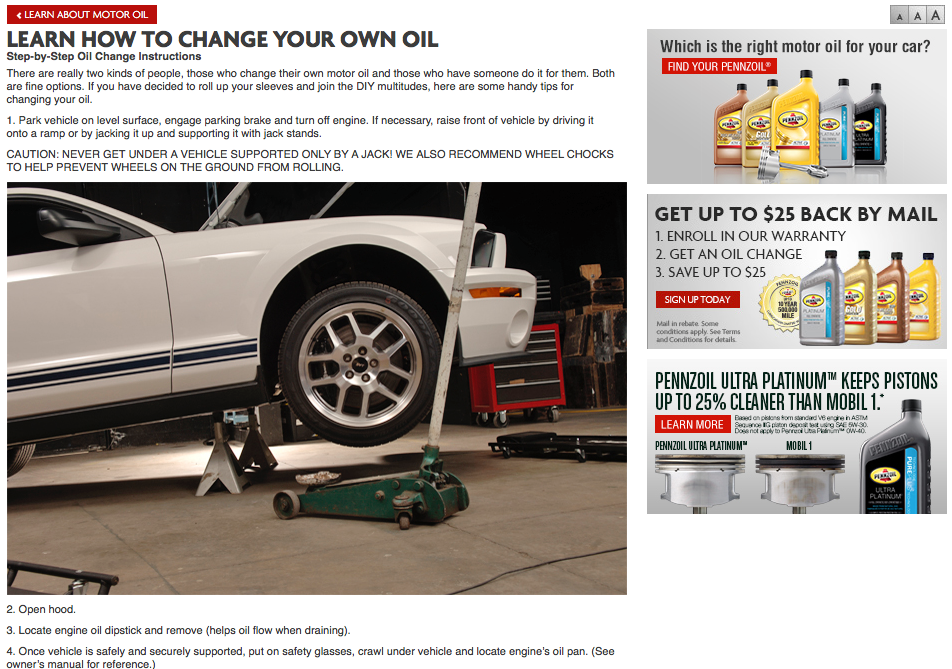 Visuals help people understand the relationship between specific parts and can make the process of assembly much easier. When you add value to your e-commerce store by providing accurate and straightforward tutorials, then you'll start to see the benefits of being a source of information, rather than just an online store.
Step 3: Combine data in a way that makes sense
If you're showcasing one component that is being sold in your e-commerce store, but for the customer to successfully install it, a little knowledge is needed about a different aspect of the motor, then provide them with that data as well.
While it's preferable when you're improving the customer experience by combining data, you're promoting something else you sell. However, that won't always be the case.
One simple example is, if you sell jumper cables, you'll have to combine a little bit of data about a car battery for the user to be completely informed. If you sell car batteries as well, you can cross merchandise. And if you don't, you're customers will appreciate that dipped into that data so that they can make the most of their purchase.
Here's an example from Amazon of a remote control toy. In the last line of the description they state that the batteries aren't included, and below that you can see they have a battery selection you can easily add to the order.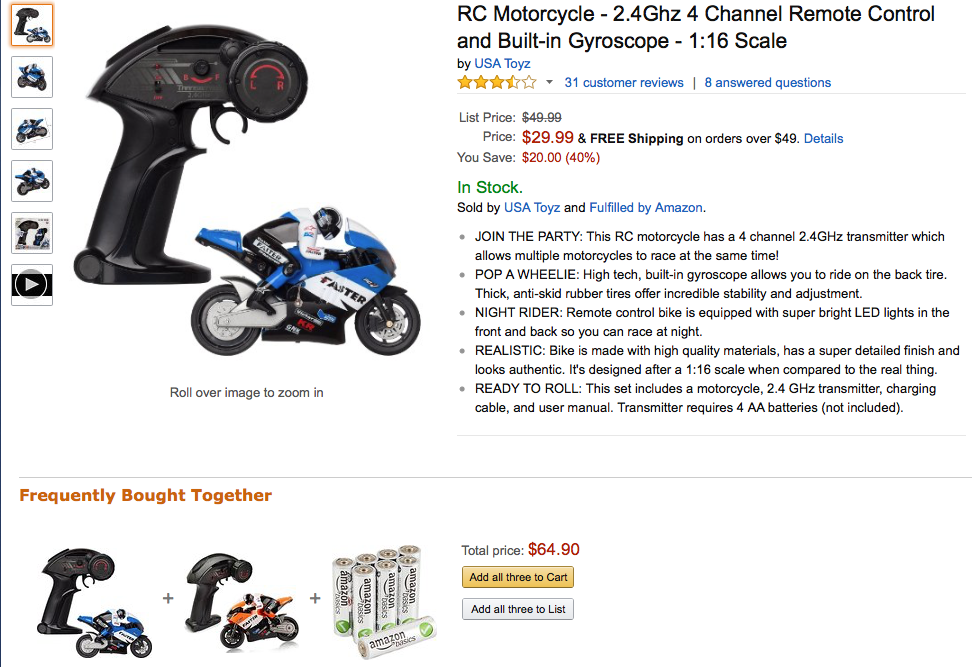 Step 4: Have a plan for quality control
When you're dealing with complex auto part data, be sure you have a plan for quality control. You don't want the information you provide customers to be stale or dated. You can proactively plan which products will demand the most updates and need to be frequently checked versus products that have stability and fewer expected changes.
Don't forget -- data is complicated, but the process of applying it doesn't have to be. If you get stuck, you can bring in the professionals. If you're applying data on your own, be sure you're not just glossing over the information, but reviewing it to ensure everything is accurate.
Your customers are counting on it, and you'll appreciate the hard work once you start seeing your bottom dollar grow.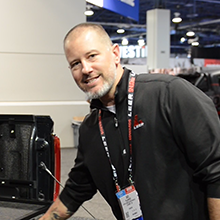 BEDSLIDE - Client Testimonial
"The best thing out of everything was that our sales went up. The new site had a better design, the checkout process was better, and ultimately achieved all of our goals. That site has been up for a year and a half and we're very happy with it, it's still awesome." - Jake Plappert