Increasing site wide eCommerce on page optimization part 2
In part 2 of site wide conversion boosters, we are going to jump directly into some juicy tactics to help turn that browsing traffic into paying customers. If you haven't checked out part 1 in the series yet, do so here. If you are already up to speed – let's get going!
Appeal to urgency: incentivized time constraints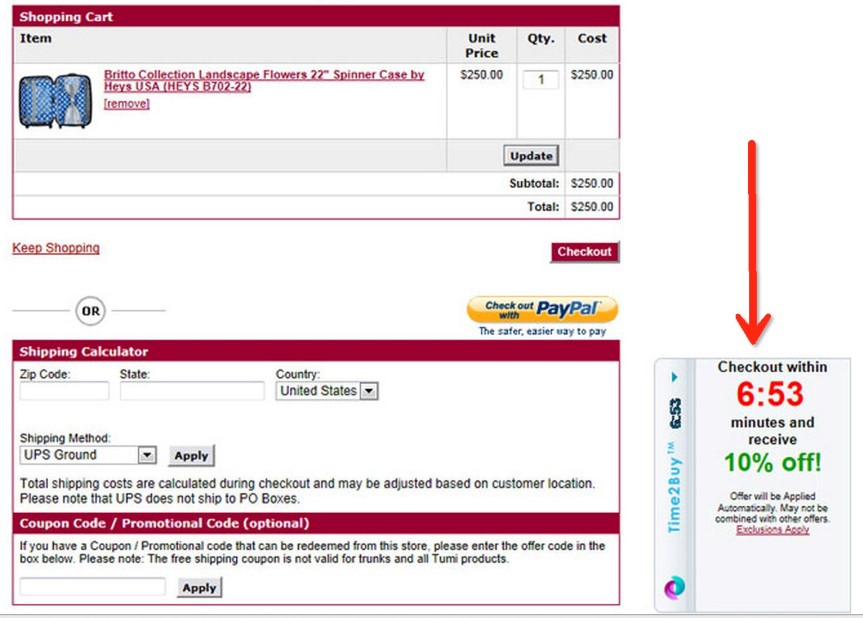 Getting straight into a big one, incentivized time constraints (ITCs) work! An ITC is an action you can trigger based on how much time someone spends on your site, the amount of page views they have made, where they have scrolled to on the page and more.
When the action is taken, a pop up will be triggered that will make an offer, which can only be claimed if the customer purchases within a certain amount of time (anything from a few minutes to a few days or even weeks – find the sweet spot for your own unique offer).
Incentivized opt-ins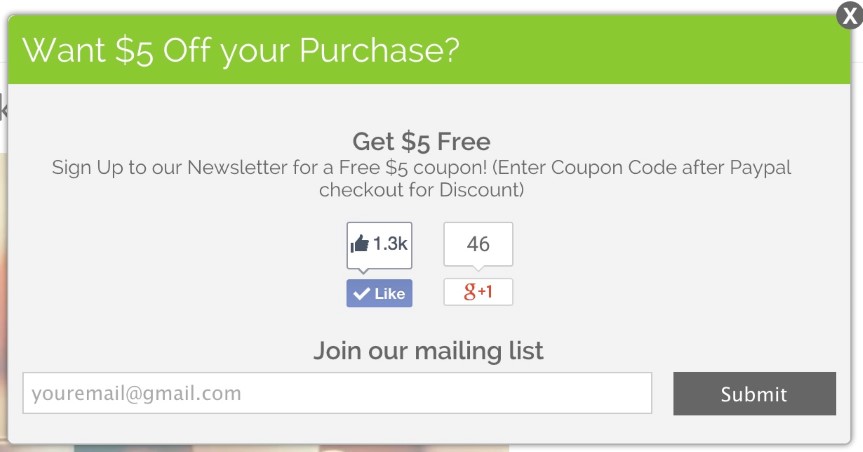 A close relative of the ITC, the incentivized opt-in will ask for the customer's email address in exchange for the discount code. This is a great way to build a list that you can communicate with (a newsletter, periodic updates, special offers etc) and start to build a long-term relationship with your target audience.
An added bonus of this opt-in is that you will capture emails from people who never end up using the discount code you sent them. This gives you a perfect group of people to target on the next holiday or the next sale and try to convert them to paying customers.
Peel away specials and daily deal bars

Two more incentivized offers to consider are the peel away special and the daily deal bar.
Peel away specials are hidden usually in the top right corner and they fold out as you scroll over with the mouse. The deal is revealed when the customer scrolls over and the deal should be clickable, to take the customer on to a page where they can access the deal.
The daily deal bar is also worth considering, the deals can change daily or periodically, and the deals will be clearly displayed in front of all your customers without using up too much valuable real estate.
Getting them one on one: The benefits of live chat
If you haven't installed live chat on your store yet, then it's possibly one of the greatest conversion boosters you can ever add. Try it, you won't regret it.
The value that comes from getting your customers chatting one on one is immense and multi-faceted. Not only can you catch potential customers mid-way through the buying process, but also get an insight into the minds and habits of your target market. You also have a great opportunity to make personalized offers and incentives, offer coupons and ask questions of your own.
Olark and Live Chat are both great options and they integrate well with most platforms. They can even link right through to your smartphone and gmail, so you can chat with your potential customers anytime, anyplace.
The undoubtable power of video
Online video converts for ecommerce. If you haven't already, you need to get some video up on your store.
Incase you are in any doubt about the power of video, here are a few stats for you:
The average American spends 19 hours per month watching online video.
Product videos are watched 60% of the time
52% of people say watching video makes them more confident in their buying decision
3/5 people will spend at least 2 minutes watching a product video
Shoppers who view video are 174% more likely to purchase
1 in 2 are less likely to return after watching a product video
Online video will soon account for 1/3 of online advertising spending
(Stats courtesy of Invodo.com)
So where should you use videos on your ecommerce store?
First, a hello from the owner on the home page is a very important video to have. Having a face and a personality to represent the store does huge things for brand image and helps conversions too.
Also make sure to have product videos and reviews on your site, and if you can get them include some testimonial videos too – they do wonders for social proof and trust.
Video can also be used with great effect on the product pages of each of your products. You could have an introduction to the product, an example of the product in use, a testimonial from a customer or even just you talking about the product. The truth is, the most important thing is just to get a video up on your product pages.
Start with your most popular products first, then work through the rest of your products. You may also want to start with a more simple or cheap video to check the effectiveness of the video, then invest in a more professional production when you are sure the ROI is there.
Other places to put videos on your store
The home page and product / category pages are the obvious choices for places to put video on your store. But what about the less obvious ones?
Try putting videos on your checkout. You'll be amazed at how a little reminder to the customer that you are still 'there' and they are still safe shopping with you can positively affect sales.
When you're done there, get some videos up on all your 'more info' pages. A huge percentage of visiting traffic will end up on your shipping page and your 'about us' page. Not including a video is a huge missed opportunity to get your face in front of your audience.
Another place to get good video content is on your blog pages, educational pages and PPC landing pages. Each page has it's own message, and people love to consume video. Putting up your message in video format increases the chance of it getting delivered.
Finally, (hot tip alert!) try putting a video on your post-action requests. What do we mean by that? What we mean is that when you ask people on your store to take an action with you (such as opt-in, click contact us, purchase an item etc.) you should thank them for it!
People who have just taken an action are super-willing to engage with you on video and it's a great place to show your gratitude and give them a special 'warm fuzzy' feeling when they have just taken the action you asked them to take.
Don't miss these opportunities to build relationships with your customers!
That concludes the site-wide conversion boosters part 2. Next in the series we will be going in to exactly what you can do to boost conversions on your home page specifically!
By Dana Nevins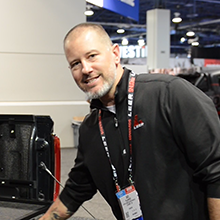 BEDSLIDE - Client Testimonial
"The best thing out of everything was that our sales went up. The new site had a better design, the checkout process was better, and ultimately achieved all of our goals. That site has been up for a year and a half and we're very happy with it, it's still awesome." - Jake Plappert